Ackley State Bank merged with GNB Bank. Ackley State Bank provides banking, insurance, and investment services. The company offers personal banking services, including checking and savings accounts, eservices, and debit and credit cards; small business services that include remote deposit, payroll processing, merchant credit card program, employee retirement plans, and private business management, as well as business and agriculture banking services.
Bank Official Website:
• www.gnbbank.com
Bank Customer Service Telephone:
• 1 (800) 864-4689
Bank Routing Number:
• 073905352
Bank Swift Number:
• This BANK is not part of the SWIFT network, so there is no number.
Online Banking Mobile Apps:
• iPhone
• Android
Branch Locator:
•Branch Finder Link
HOW TO LOG IN
Step 1 – If a user wishes to access their online account they can go to the banks Homepage and look for ´Online Banking Login´ where they must enter their ´Usercode´ and then click ´Submit´.

Forgotten Usercode/Password
Step 1 – If customers can´t remember their password they should click on the link ´Help´ above the ´Online Banking Login´ on the homepage.

Step 2 – If a user can not remember their Password or usercode they should contact the bank directly in their Local Branch or call them by telephone on 1 (800) 864-4689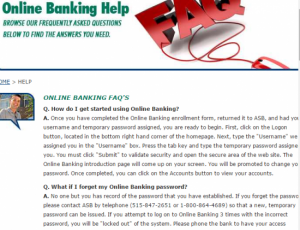 HOW TO ENROLL
Step 1 – To create an new online account the customer must click ´Enroll´ above the ´Online Banking Login´ on the homepage.

Step 2 – Users are directed to a new page which displays the banks ´Enrollment Form´. This must be printed out, completed and returned to the bank.
Required
Name
Social security number
Date of birth
Address
ZIP code
Telephone number
Agree to terms and conditions