Alton Bank provides banking products and services. It offers checking accounts, saving accounts, time deposit accounts, installment loans, vehicle loans, personal loans, real estate loans, home loans, mobile home loans, farm equipment loans, livestock loans, business loans, stock loans, tax refund loans, ATM debit cards, and safe deposit boxes. The company's checking and saving accounts include low volume accounts, regular checking accounts, NOW accounts, money market deposit accounts, statement savings accounts, Christmas club accounts, IRA savings accounts, and health savings accounts.
Bank Official Website:
• www.altonbank.com
Bank Customer Service Telephone:
• 1 (417) 778-7211
Bank Routing Number:
• 081508602
Bank Swift Number:
• This BANK is not part of the SWIFT network, so there is no number.
Online Banking Mobile Apps:
• No Mobile Apps Available
Branch Locator:
•Branch Finder Link
HOW TO LOG IN
Step 1 – If an existing online account holder needs to access their account online then they must login by going to the bank´s Homepage where they can look for ´Online Banking Login´ at the top right of the page. Here they must enter their ´Access ID´ and ´Passcode´ and then click ´Login´.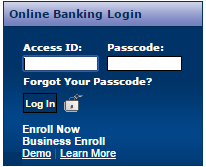 Forgotten User ID/Password
Step 1 – If a user can not find or remember their passcode they must click on the link ´Forgot Your Passcode´ which is just below ´Online Banking Login´ at the top right of the homepage.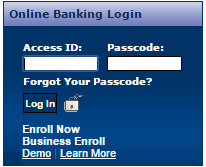 Step 2 – On the next page the user must enter their ´Access ID´, ´Tax ID/ Social Security Number´ and ´Account Number´. Then they must click on ´Submit´.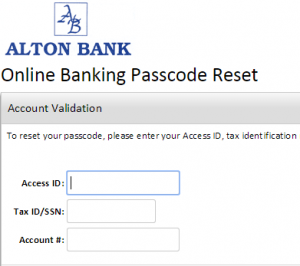 If a user can not remember their access ID they should contact the bank by telephone on 1 (417) 778-7211 or alternatively if they wish to speak to someone in person they can visit their ´Branch´.
HOW TO ENROLL
Step 1 – To start banking online holders of a branch account with Alton Bank must enroll by going to the banks homepage and clicking the link below ´Online Banking Login´ which is ´Enroll Now´.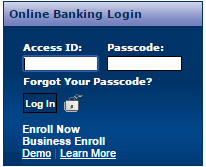 tep 2 – The next page users are directed to will show the bank´s terms and conditions for which they must check the box at the bottom of the page to show they agree and then click ´I Agree´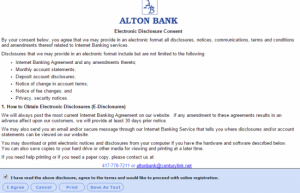 Step 3 – In the final page users are required to complete the ´Blank Fields´ to continue with enrollment.
Required
Name
Address
ZIP code
Tax ID/Social security number
Date of birth
Daytime telephone number
Email address