As of December 2, 2016, American Trust Bank of East Tennessee was acquired by Citizens Bank (Elizabethton, TN). American Trust Bank of East Tennessee provides personal and business banking services in Tennessee. Its deposit products include checking, savings, certificates of deposit, money market, and individual retirement accounts. The company's lending portfolio comprises personal and home loans, and commercial loans. It also provides ATM, gift cards, mobile banking, electronic services, notary, official/cashier's checks, night depository, credit card/cash advances, and safe deposit boxes.
Bank Official Website:
• www.citizensbank24.com
Bank Customer Service Telephone:
• 1 (865) 986-7880
Bank Routing Number:
• 064208893
Bank Swift Number:
• This BANK is not part of the SWIFT network, so there is no number.
Online Banking Mobile Apps:
• iPhone
• Android
• iPad
Branch Locator:
•Branch Finder Link
American Trust Bank of East Tennessee Online Banking Login
HOW TO LOG IN
Step 1 – If a user would like to get in to their online account they need to go to the bank´s Homepage where they should find ´Secure Internet Banking´. Here they can enter their ´Internet Banking ID´ and then click ´Log In´.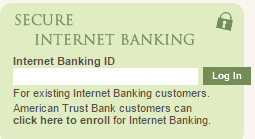 Forgotten User ID/Password
Users who can not remember their login details need to contact the bank. This can be done by telephone calling 1 (865) 986-7880 or by visiting their ´Local Branch´. Users can also use the banks online ´Messaging Service´. For this users are required to complete the ´Blank Fields´.
Required
Name
City
State
Telephone number
Email address
best method of contact
Message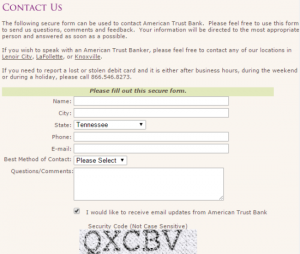 HOW TO ENROLL
Step 1 – If a user wants to enroll in online banking they can go to  the bank´s homepage and look for ´Secure Internet Banking´. Here they must click the link below called ´ Click Here To Enroll´.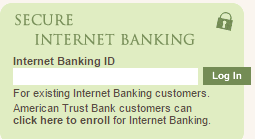 Step 2 – On the next page are the terms and conditions for the bank for which the user must click ´I Accept´ at the bottom of the page.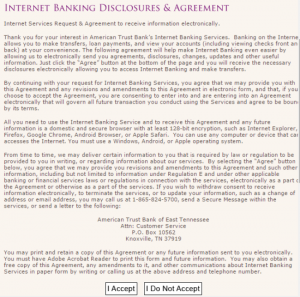 Step 3 – This page informs the user of the details they will need to enroll. Then the user must continue by clicking ´I Agree´.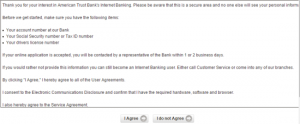 Step 4 – This page requires the user to enter their ´Last Four Digits Of Social Security Number´. ´Last Four Digits Of Account Number´ and Drivers License Number´. Then they must click ´Continue´.