Bank of Bozeman provides community banking services to residential and commercial customers in the Gallatin Valley. The company offers personal banking services, including checking accounts, savings accounts, loans, and investment solutions; and business banking services, which include checking accounts, savings accounts, and business lending solutions. Its services also include safe deposit boxes, notary public services, Visa gift cards, Visa credit cards, and Visa prepaid cards.
Bank Official Website:
• www.bankofbozeman.com
Bank Customer Service Telephone:
• 1.406.587.5626
Bank Routing Number:
• 092905443
Bank Swift Number:
•This BANK is not part of the SWIFT network, so there is no number.
Online Banking Mobile Apps:
• No Mobile Apps Available
Branch Locator:
•Branch Finder Link
HOW TO LOGIN
Step 1 – Go to www.bankofbozman.com – Enter your Access ID in the "Enter Access ID" box at the bottom of the page. Click "SIgn In."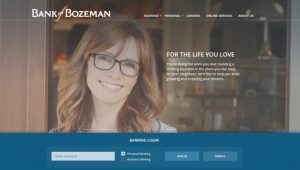 Step 2 – After entering your online banking credentials and signed in, you will be taken to a separate page to enter your password.
Step 3 – Once you've entered your password you will be taken to your online banking account page. You will then be able to begin doing your online banking business.
Forgotten Password – Currently, there is no password self-reset on the web site. You must call the bank at 1.406.587.5626 for personal assistance. You will answer some security questions and then you'll be provided with a new password
HOW TO ENROLL
Step 1 – Go to This Page –  You must first review the "Online Banking Service Agreement" and agree to it before you will be allowed to move forward in the enrollment process. Once you've read the terms, click "I understand & agree"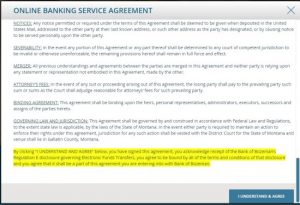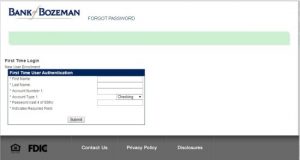 Step 2 – Once you've signed the agreement you will be directed to the second part of the enrollment. In the fields provided, entered the required information as follows: (all fields are required to be able to proceed)
Your first name
Last name
Account number 1
Account type 1
Password (the last 4 digits of your SSN)
Click "Submit"
From this point you will be prompted privately, through the remainder of your enrollment process. After you've completed your enrollment, you will be able to login to your Online Banking services where you will be able to review your account information and conduct any needed banking transactions, 24 hours a day