Bank Of Brookhaven provides banking products and services. It offers charter, choice, classic life, platinum plus, and bonus checking accounts; and NOW accounts, insured money market accounts, savings accounts, certificates of deposits, and individual retirement accounts. The company also provides credit and debit cards; safe deposit boxes; other services that include overdraft protection, night depository, check card, fax, bank-by-mail, notary, money orders, wire transfer, merchant service for MasterCard/Visa, and free checking for students; and online banking, mobile banking, bill pay, and cash management services.
Bank Official Website:
• bankofbrookhaven.com
Bank Customer Service Telephone:
• 1 (601) 835-3033
Bank Routing Number:
• 065306134
Bank Swift Number:
•This BANK is not part of the SWIFT network, so there is no number.
Online Banking Mobile Apps:
• iPad
• iPhone
• Android
Branch Locator:
•Branch Finder Link
HOW TO LOG IN
Step 1 – If the user wants to login they should go to the bank`s Homepage and cllck on `Netteller Online Banking`.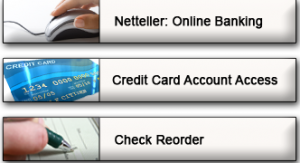 Step 2 – The user must now enter their `Netteller ID` and then click `Submit`.

Forgotten User ID/Password
Step 1 – If a user can not remember their login details they will need to contact the bank by either calling 1 (601) 835-3033 or by visiting their `Bank Branch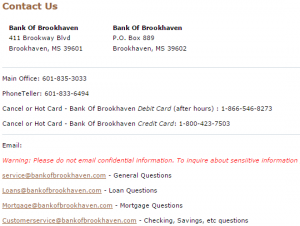 `.
HOW TO ENROLL
Step 1 – If the user wants to enroll in online banking they should go to the bank`s home page and click on the link `Click Here For A Printable Application For Netteller` which is around the center of the page.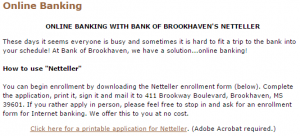 Step 2 – The user must complete the `Blank Fields` and then return the form to their bank branch.
Required
Name
Address
Email address
Social security number
Home/Business/Cell telephone number
Account description
Account number