Bank of DeSoto, National Association provides banking services to individuals and businesses in Texas. It offers checking, savings, money market, NOW, and individual retirement accounts, as well as certificate of deposit. The company's lending lines comprise consumer loans, such as personal, mortgage, construction, home improvement, farm, auto and truck, and recreational vehicle; and commercial loans, such as business, farm, auto and truck, and real estate. It also provides safety deposit boxes, wire transfers, cashier's checks, traveler's cheques, fund transfers, ATM/debit cards, night depository, statements, online banking, and telephone banking services.
Bank Official Website:
• www.bankdesoto.com
Bank Customer Service Telephone:
• 972-780-7777
Bank Routing Number:
• 111916698
Bank Swift Number:
• This Bank is not part of the SWIFT network, so there is no number.
Online Banking Mobile Apps:
• iPhone
• Android
• iPad
Branch Locator:
•Branch Finder Link
HOW TO LOGIN
Step 1 – User must visit the bank's website and enter their "Access ID" under the "Online Banking" section to the right of the homepage. After you input the information, click the Login button just below.

Step 2 – This will bring you to the "Login" page where you are asked to provide your "Password". Enter your account Password, then click Submit.

Forgot Access ID/Password – If you cannot recall either your "Access ID" or "Password", you must call the bank at 972-780-7777 and inform an associate that you need help in recovering the forgotten information. The bank will then ask you information about your account to verify that you are indeed the account holder. Once you have provided the required information the bank will then disclose your Access ID or Password.
HOW TO ENROLL
Step 1 – Click the First Time User link on the homepage to access the "BankDeSotoNet Internet Site Usage Agreement" page to begin the enrollment process. Read the following terms and conditions. If you agree, click the I Accept button at the bottom.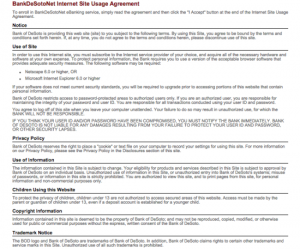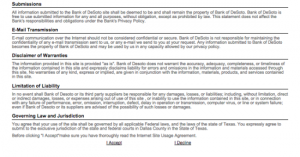 Step 2 – Fill out the "First Time User Authentication" form which requests the following info:
SSN
First & Last Name
Address (City, State, Zip)
E-mail Address
Phone Number
Account Number and Type
Telebanc Password
then click Submit to advance to the next step.