Bank of Gravett provides personal and business banking services in Arkansas. It offers various personal checking products, including free, classic, elite club, LV gold, and NOW checking accounts, as well as e-Checking accounts; business checking products comprising free, small business, small business interest, and business account analysis accounts; savings products that include regular savings, money market, Christmas club, and certificates of deposit accounts; consumer, mortgage, commercial, and agricultural loans; and other services, such as pre-paid cards.
Bank Official Website:
• www.bankofgravett.net
Bank Customer Service Telephone:
• 1-(479) 795-0123
Bank Routing Number:
• 082902692
Bank Swift Number:
• This Bank is not part of the SWIFT network, so there is no number.
Online Banking Mobile Apps:
• iPhone
• Android
• iPad
Branch Locator:
•Branch Finder Link
HOW TO LOGIN
Step 1 – Go to www.bankofgravett.net – At the top center of the page, login with your "BoGie ID" and Password. You will then be directed to your Online Banking Page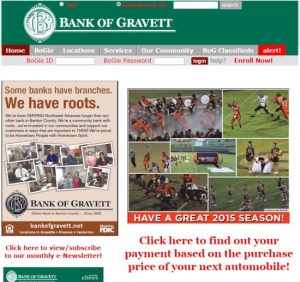 Step 2 – After you have successfully logged in to your Online Banking services, you will be able to review account and conduct any of the banking business services available to you.
Forgotten Password – Should you find you're unable to remember your password, you may call customer service at 1-(479) 795-0123 with proper identification or you may walk into any of the local banking centers and present ID, your password will be mailed to you. You will then be able to login and regain access to your Online Banking services.
HOW TO ENROLL
Step 1 – If you would like to enroll in online banking, read the instructions on This Page – You will find at the end of the instructions provided, the application that must be printed, completed and either mailed to Bank of Gravett, PO Box 149, Gravette, AR 72736 , faxed (1.479.787.5019) or walked in to any of the banking centers for completion.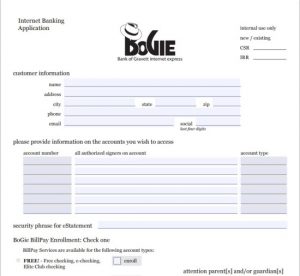 Step 2 – Once you've printed the form and returned it to the bank, you will be contacted as soon as possible with verification that your Online Banking account is ready to use. You will then be able to access the home page with your BoGie ID and Password and you'll be able to access your online services so that you may review your accounts and conduct any banking transactions