The Bank of Holland is a Federal Deposit Insurance Corporation-insured banking corporation that was founded and is headquartered in the town of Holland, New York. It offers a wide range of banking services  including savings and checking accounts, mortgages and business and personal loans. The bank has three branches- one in Holland, one in East Aurora, New York, and new one in Elma, New York a former Bank of America branch and automated teller machines throughout Western New York state.
Bank Official Website:
• www.bankofhollandny.com
Bank Customer Service Telephone:
• 1-716-537-2264
Bank Routing Number:
• 022307600
Bank Swift Number:
• This Bank is not part of the SWIFT network, so there is no number.
Online Banking Mobile Apps:
• iPhone
• Android
• iPad
Branch Locator:
•Branch Finder Link
HOW TO LOGIN
Step 1 – Go to www.bankofhollandny.com  – When you've arrived at the home page, in the "Online Banking" box on the left upper side, enter your Access ID. Click "Login." You will then be led to a second login page where you will be able to enter your password.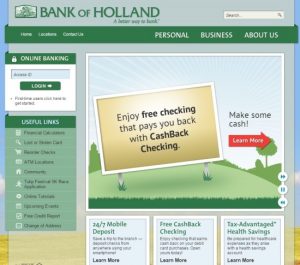 Step 2 – Once you've successfully entered your online banking login credentials, you will be directed to your Online Banking account where you will be able to conduct your banking business, 24 hours per day.
Forgotten Password – If you find you cannot remember your password you must call customer service with the banking branch at 1-716-537-2264. You also have the option of going to the bank to speak with a representative in person for password reset assistance.
HOW TO ENROLL
Step 1 – If you're prepared to enroll in online banking, begin by going to This Page.  Once you arrive to the "First Time User" page, you will need to enter:
Your Access ID
Your Password
Select from the drop down box, the type of account you have
Click "Submit"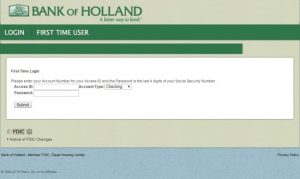 Step 2 – After you have entered your information and submitted, you will be guided through your enrollment privately. You will enter your personal information and set up security for your account. You will then be able to login at the home page and begin using your Online Banking services at your convenience.