Bank of Kirksville, a state charter bank, provides personal and business banking products and services. It offers checking accounts, including regular checking, GenGold checking, check mate free checking, prime time checking, nonprofit organization checking, super NOW accounts, prestige super NOW accounts, money market accounts, PAL checking, commercial checking, small business checking, and health savings accounts; and savings accounts, such as regular savings, PAL savings, and Christmas club accounts.
Bank Official Website:
• www.bankofkirksville.com
Bank Customer Service Telephone:
• 1-(660) 665-7766
Bank Routing Number:
• 081501340
Bank Swift Number:
• This Bank is not part of the SWIFT network, so there is no number.
Online Banking Mobile Apps:
• No Mobile Apps Available.
Branch Locator:
•Branch Finder Link
HOW TO LOGIN
Step 1 –If you have completed the enrollment and your bank has contacted you with a Login ID and Password Go to The Login Page and enter your login ID then click "Sign In." You will then be taken to a second page where you will verify an image you had chosen when you completed the form. You will then enter the pass phrase. If the system recognizes your information, you will then enter your password.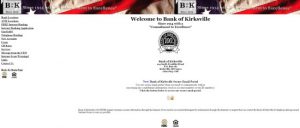 Step 2 – Once these steps are complete,  will be go to the login page and enter a User ID and Password. You will be directed to your Online Banking Page where you will have access to review your accounts and conduct transactions.
Forgotten Password – If you find that you are unable to recall your password, you must call the bank during regular business hours at 1-(660) 665-7766.
HOW TO ENROLL
Step 1 – If you are prepared to enroll in Online Banking, you must print, complete and sign the form on This Page – Once completed, you must take the form to the bank or mail it to your local branch and await further notification.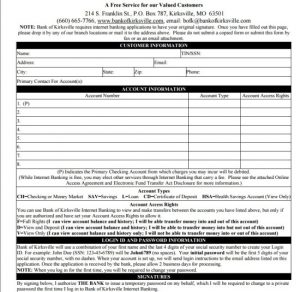 Step 2 – Once you've completed the form and agreed to the terms and the bank receives it, you will then be notified with a Login ID and Password. You will then be able to go to the Login Page and login to your Online Banking Services.