Bank of New Jersey provides banking services to small business and individuals in the Bergen County. It offers personal banking products and services, including checking, savings, money market, and individual retirement accounts, as well as certificates of deposit; and lending solutions, such as cash reserve lines of credit, home equity loans and lines of credit, and residential mortgages loans. The company also provides business banking products and services, which include checking, savings, and money market accounts, as well as certificates of deposit; and term loans and lines of credit.
Bank Official Website:
• www.bonj.net
Bank Customer Service Telephone:
• 1-201-944-8600
Bank Routing Number:
• 021214189
Bank Swift Number:
• This Bank is not part of the SWIFT network, so there is no number.
Online Banking Mobile Apps:
• iPhone
• Android
• iPad
Branch Locator:
•Branch Finder Link
HOW TO LOGIN
Step 1 – Go to www.bonj.net – When you reach the home page, in the "Online Banking" box located at the top left of the page, you would enter your Customer ID and Password. Click "Login"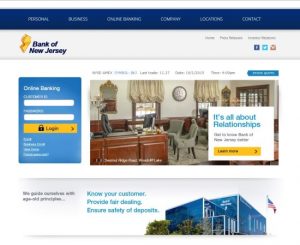 Step 2 – Once you've entered your customer ID and passcode credentials and then have submitted the information, you will be able to login and be directed to your Online Banking account where you will be able to securely review your account(s) and conduct any needed transactions.
Forgotten Password – If you find you're unable to recall your password, go to the home page. In the "Online Banking" box, click "Forgot Passcode?" You will then arrive at a verification page where you will enter:
Your Access ID
Your TIN or SSN
An account number from any of your accounts with this bank
Click "Submit"
You will then be prompted by the system through the remainder of your password reset process. Once you've completed all of the security steps, you will regain access to your online banking services. Login with your Access ID and new password.
HOW TO ENROLL
Step 1- If you're ready to enroll in online banking services, begin by going to This Page – Before you will be able to acquire an online account, you must first read and agree to the "Electronic Disclosure Consent Statement" There are 2 pages to this agreement and you must read, acknowledge by clicking the box at the bottom of the page as well as click "I Agree" on both pages. Once you've clicked the agreement button on the second page, you will be taken to the Online Banking Enrollment form.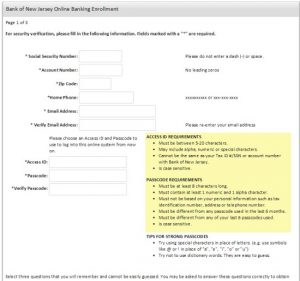 Step 2 – You must complete all of the required fields. Be certain to follow the instructions in the yellow box to set up your Access ID and your Passcode. Once you've completed all of the information on this form, you will be guided through security set up for your account.
Step 3 – After you have successfully completed the enrollment procedures, you will then be able to login to your account and handle your banking business at your convenience.