Bank of Ocean City provides banking products and services to individuals and businesses. The company offers checking accounts, savings accounts, money market accounts, certificates of deposit accounts, health savings accounts, and individual retirement accounts; and unimproved land loans, commercial and residential construction loans, residential mortgages, new and used auto loans, bill consolidation loans, commercial mortgages, term loans, and lines of credit options. It also provides services in the areas of safe deposit boxes, automatic transfers.
Bank Official Website:
• www.bankofoceancity.com
Bank Customer Service Telephone:
•  1-800-472-3272
Bank Routing Number:
• 052102312
Bank Swift Number:
• This Bank is not part of the SWIFT network, so there is no number.
Online Banking Mobile Apps:
• No Mobile Apps Available.
Branch Locator:
•Branch Finder Link
HOW TO LOGIN
Step 1 – Go to www.bankofoceancity.com – As you reach the home page, in the "Online Banking Login" box, located in the mid-left of the page, enter your Access ID and select a summary page where you would like to arrive on login. Click "Login."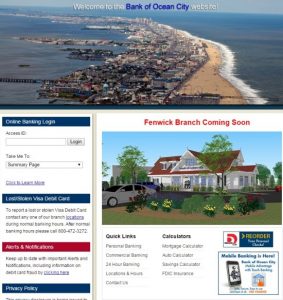 Step 2 – After you've entered and submitted your Access ID information, you'll be taken to the next step of the login process, where you would enter your password. Enter your password and click "Submit." You will be directed to your Online Banking services page where you will be able to now do your banking business any time that is best for you.
Forgotten Password – If you're unable to remember your password, from the password login page, click the "Forgot Password?" link. Provide the required information in the fields provided. Click "Submit." Once you submit the required information, your password will be mailed to you by the system to the email address that you have on file with the bank.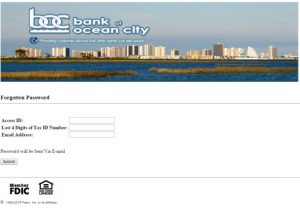 Once you've received your password, you will regain access to your Online Banking services and may login with your Access ID and Password.
HOW TO ENROLL
Step 1 – If you would like to enroll in Online Banking or in Telebanc, in order to keep your financial information secure, you must call into the customer service number at 1-800-472-3272 or you may certainly visit any one of the five locations to enroll. Currently, there is no self enrollment available online with this bank.