Bank of Weston (Weston, MO) provides financial services to individuals and businesses in the Northland area of Kansas City. The company offers checking, savings, individual retirement, and certificates of deposit (CDs) accounts. Its lending lines include personal, auto, home construction, mortgage, business, and commercial real estate loans, as well as home equity lines of credit. The company also provides access to CD alternatives, mutual funds, fixed annuities/indexed annuities/variable annuities.
Bank Official Website:
• www.bankofweston.com
Bank Customer Service Telephone:
• 1-816-640-5252
Bank Routing Number:
• 101205050
Bank Swift Number:
• This BANK is not part of the SWIFT network, so there is no number.
Online Banking Mobile Apps:
• iPad
• iPhone
• Android
Branch Locator:
•Branch Finder Link
HOW TO LOGIN
Step 1 – Go to www.bankofweston.com – When you reach the home page, in the "Online Banking Login" box, enter your Login ID. Click "Login"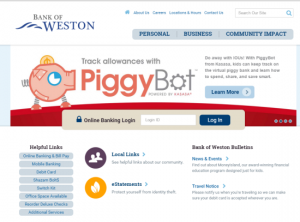 Step 2 – When you click the login button you will then be taken to the "Login to User" page. Verify your login image. If it's correct, enter your password and click "Submit"

Step 3 – Once you've logged in successfully, you will be taken to your Online Banking page. You will then be able to access your account any time of day to do your banking business.
Forgotten Password – If you're unable to remember your password, you will need to do a Password Reset. When you reach the reset page, you will need to enter the required information into the fields provided. Click "Continue"

You will be prompted, privately through the remainder of the reset process. Once complete, you will regain access to your account. You may resume your online banking business.
HOW TO ENROLL
Step 1 – If you would like to enroll in online banking, you will be required to contact customer service at 1-816-640-5252 or you may walk into one of the banking locations for enrollment assistance with a banking representative.

Step 2 – As soon as all of your enrollment information is verified, you will be contacted with your Online Banking account information. You will be able to login to your account from the home page and begin working with your account.