Bank of Winnfield & Trust Company provides personal and business banking services. Its personal banking services include regular personal checking, student checking, super NOW, money market investment, and electronic transfer accounts; personal regular savings accounts, personal certificates of deposit, Christmas club accounts, and individual retirement accounts; personal, automobile, recreational vehicle, travel trailer, tractor, boat, mobile home, residential mortgage, interim construction, home equity, debt consolidation, and savings and CD secured loans, as well as home equity lines of credit; and online bill pay and mobile banking.
Bank Official Website:
• bankofwinnfield.worldsecuresystems.com
Bank Customer Service Telephone:
• 1-(318) 628-4677
Bank Routing Number:
• 111100844
Bank Swift Number:
• This BANK is not part of the SWIFT network, so there is no number.
Online Banking Mobile Apps:
• No Mobile Apps Available
Branch Locator:
•Branch Finder Link
HOW TO LOGIN
Step 1 – Go to www.bankofwinnfield.com – As you arrive at the home page, in the "Online Banking" box at the top right side of the page, enter your User ID. Click "Login"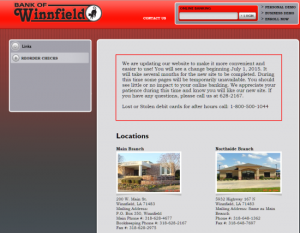 Step 2 – Once you've submitted your User ID, as you click the login button, you will be directed to a security page where you will identify your selected security image. If your image is correct, you will enter your password. Click "Submit."  Should there be no image present or it's not correct, do not enter your password, but call your banking institution at 1-(318) 628-4677 immediately.

Step 3 – After successfully entering your login credentials, you will then be taken to your Online Banking page where you will be able to begin reviewing your accounts and doing any needed banking transactions.
Forgotten Password –  If you are unable to recall your password, you will need to contact the bank directly at 1-(318) 628-4677 for further assistance.
HOW TO ENROLL
Step 1 – If you feel you're prepared to enroll in this bank's online banking account services, begin by going to the "Enrollment Form." Once you've arrived at the Enrollment Form, you will need to complete all of the required fields. Click "Submit"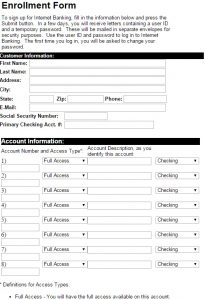 Step 2 – Once you've submitted your fully completed enrollment form, you will then have access to your Online Banking account. Simply login and you will now have the ability to conduct any of your selected banking business.