Bank of Zumbrota offers personal and commercial banking services. The bank was founded in 1925 and is based in Zumbrota, Minnesota. Bank of Zumbrota operates as a subsidiary of Zumbrota Agency, Inc.
Bank Official Website:
• www.bankofzumbrota.bank
Bank Customer Service Telephone:
•  1-507-732-7555
Bank Routing Number:
• 091910028
Bank Swift Number:
• This BANK is not part of the SWIFT network, so there is no number.
Online Banking Mobile Apps:
• No Mobile Apps Available
Branch Locator:
• Branch Finder Link
Bank of Zumbrota Banking Online Login
HOW TO LOGIN
Step 1 – Go to www.bankofzumbrota.com – When you reach the home page, in the "Online Banking" area, you must enter your Access ID. Click "Go"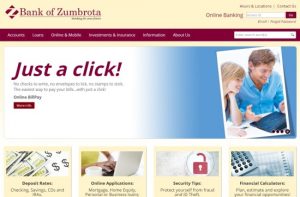 Step 2 – After you've submitted your Access ID, you will immediately be taken to a secure page where you may enter your Password. Click "Submit"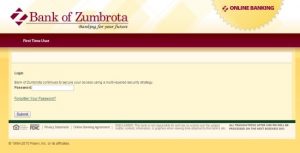 Step 3 – Once you've entered your credentials on their respective pages, you will be taken to your Online Banking account, where you may review your account and do any banking transactions.
Forgotten Password – Should you find that you are unable to remember your password, you may begin the reset process by going to the "Forgot Your Password?" page. Enter your Access ID. Click "Submit"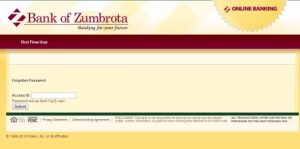 Once you've submitted your ID, you will receive an email to the email address you have on file with the bank, containing your password. You will regain access to your account and therefore, may resume your banking business.
HOW TO ENROLL
Step 1 – If you're ready to enroll in online banking, you would begin by going to the "First Time User" page. You must then complete all of the information required inside the form in order to proceed. Click "Submit"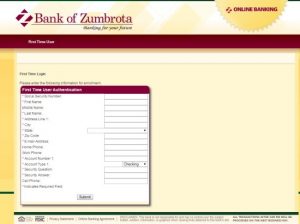 Step 2 – Once you've completed and submitted the authentication page, you will be guided privately through the remainder of the enrollment process. After you've completed all of the required steps, you will then have the ability to login with your chosen Access ID and Password, to conduct any banking reviews and/or transactions needed.