Bank SNB, National Association provides banking products and services. Its medical financial services for medical professionals, families, and their practices include resident/fellow banking, loan programs, practice startup financing and services, eChecking, and overdraft.
Bank Official Website:
• www.banksnb.com
Bank Customer Service Telephone:
• 1.888.762.4762
Bank Routing Number:
• 103101437
Bank Swift Number:
• This BANK is not part of the SWIFT network, so there is no number.
Online Banking Mobile Apps:
• iPhone
• iPad
• Android
Branch Locator:
• Branch Finder Link
HOW TO LOGIN
Step 1 – Go to www.banksnb.com –  In the "Personal Banking" box on the top right of the page, enter your Login ID. Click "Login"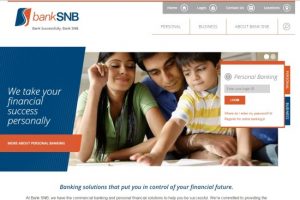 Step 2 – You will be taken to a secure page where you will verify an image you have selected at enrollment, if you recognize it, enter your password into the box. Don't enter your password if you do not recognize your image or if it isn't present. If you enter your password successfully, you will then be directed to your Online Banking page.
Forgotten Password – If you find you cannot remember your password, you will be required to contact the bank for assistance with a password reset at 1-888-762-4762. You will be asked some security questions. If you're able to answer them, you will receive a new ID and Password at the email address you have on file with the bank.
HOW TO ENROLL
Step 1 – When you're prepared to enroll in online banking you will begin by going to the "Automated Enrollment" page. Enter the information required and requested. Click "Continue"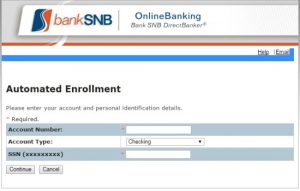 Step 2 – Once you've submitted your information, as you continue, you will be prompted privately to the completion of the enrollment process. When enrollment is complete, you will be able to login and access your Online Banking page where you will be able to conduct you Online Banking Business.