Belt Valley Bank is a full-service bank. The bank accepts deposits, makes loans and provides other services for the public.
Bank Official Website:
• www.beltvalleybank.com
Bank Customer Service Telephone:
• 1-(888)665-9246
Bank Routing Number:
• 092905207
Bank Swift Number:
• This BANK is not part of the SWIFT network, so there is no number.
Online Banking Mobile Apps:
• iPad
• iPhone
• Android
Branch Locator:
• Branch Finder Link
HOW TO LOGIN
Step 1 – Go to www.beltvalleybank.com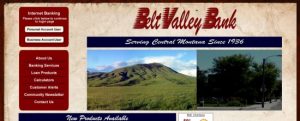 – In the "Internet Banking" box at the top left of the page, select the type of account you would like to utilize once you're logged in. For the sake of example, we shall click the "Personal Account User" link.
Step 2 – Clicking the Personal Account User link will lead you to the User ID page. Enter your User ID. Click "Continue"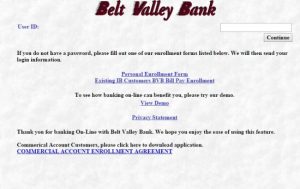 Step 3 – After entering your User ID and continuing on, you will be taken to the next login step whereas you will answer a security question. Enter your answer. Click "Submit" – You will then be taken to the last login step where you will enter your password. Once you've successfully entered your login credentials, you will be directed to your Online Banking page and will then be able to do your banking business 24 hours daily, any day of the year.
Forgotten Password – If you are unable to recall your password, this bank requires that you contact the bank or walk into the banking center during banking hours, to receive a password reset directly from a banking representative.
HOW TO ENROLL
Step 1 – When you're ready to enroll in online banking, you must begin by reviewing and agreeing to the "Personal Enrollment Form Agreement" page. Click the link to the agreement. Once you have reviewed the terms you must agree them in order to be able to proceed with your enrollment. Click "I Agree"

Step 2 – After agreeing to the terms of the enrollment agreement, you would then be taken to the enrollment form. Complete all required fields. Complete the human verification by entering the characters into the text box. Click "Submit"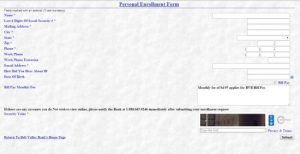 Step 3 – After submitting the enrollment form, you will be prompted through the remaining steps of enrollment, privately. Once completed, you will then have access to your Online Banking account services which will now be available to you 24/7/365.