Benchmark Community Bank provides banking services to individuals, families, and businesses in Virginia. It offers savings plans, such as traditional savings accounts, certificates of deposit, and individual retirement accounts; checking accounts for businesses and non-profit organizations; debit and credit cards; investment and insurance services; and fixed rate and adjustable rate home mortgages, home construction loans, home improvement loans, home equity loans, loans for vacation homes or rental properties, loans for commercial property, and land purchase loans.
Bank Official Website:
• www.bcbonline.com
Bank Customer Service Telephone:
• 1-434-575-0500
Bank Routing Number:
• 051402482
Bank Swift Number:
• This BANK is not part of the SWIFT network, so there is no number.
Online Banking Mobile Apps:
• iPad
• iPhone
• Android
Branch Locator:
• Branch Finder Link
Benchmark Community Bank Online Banking Login
HOW TO LOGIN
Step 1 – Go to www.bcbonline.com – In the "Online Banking" box located at the top right side of the page, enter your Username and Password. Click "Login"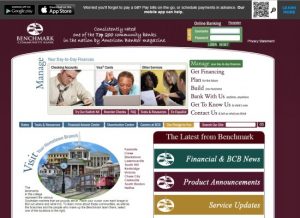 Step 2 – As you enter your login credentials and click login, you will then be taken to your Online Banking page, where you will then be able to review your account(s) and/or conduct any online banking transactions.
Forgotten Password – If you're unable to recall your password, recovery is quite simple. Go to the "Can't access your account?" page. You will enter your telephone number that you have on file with the bank, as well, enter your Username. Click the "Send me a new password" button.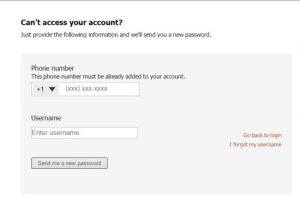 Once you've submitted your information, the system will send you a new password to the email address that you have on file with the bank. You will then regain access to your online banking services and may resume your banking business.
HOW TO REGISTER
Step 1 – Should you find that you're prepared to register for online banking services go to the "Secure Sign Up" page. Enter all of the required information into the boxes provided on the page. At the end of the page there will be the Terms & Conditions agreement you must review and agree to before being allowed to proceed with establishing an online account. Once you've reviewed the terms, click the box agreeing to the terms.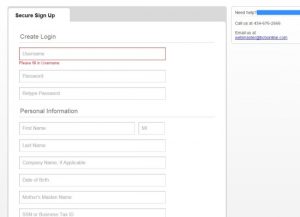 Step 2 – Once you've completed the form and agreed to the terms click "Complete Sign Up." You will then have the ability to login to your account and conduct your banking business 24 hours per day, any day of the year.