Bessemer Trust Company, National Association provides wealth management services to private clients. The company provides investments, such as hedge funds, private equity, and real estate. In addition, it offers legacy planning, tax strategies, family wealth stewardship, concentrated holding strategies, family company advisory, insurance advisory, philanthropic advisory, real estate advisory, and financial services. Bessemer Trust Company, N.A. was founded in 1907 and is based in New York, New York.
Bank Official Website:
• www.bessemertrust.com
Bank Customer Service Telephone:
• 1-212-708-9100
Bank Routing Number:
• 026008756
Bank Swift Number:
•TCBEUS33XXX
Online Banking Mobile Apps:
• iPad
• iPhone
• Android
Branch Locator:
• Branch Finder Link
Bessemer Trust Company Online Banking Login
HOW TO LOGIN
Step 1 – Go to www.bessemertrust.com – As you arrive on the home page, in the top right corner, click the "Client Site Login" link. This will take you to the page where you will enter your Username. Click "Next"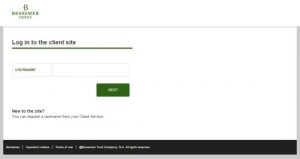 Step 2 – Once you've submitted your Username, clicking "Next" will guide you to a separate secure page where you will enter your password. Click "Login"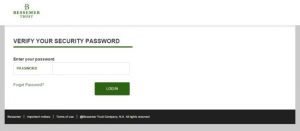 Step 3 – After you have successfully submitted your login credentials, you will be directed to your Online Banking account page for your review at your convenience.
Forgotten Password – Should you find that you're unable to recall your password, you may contact your "Client Adviser" for a reset.
HOW TO ENROLL
Step 1 – Due to the importance of the client's information, a client or client representative may go to one of the locations or contact client services to enroll an Online Bank account.
Step 2 – Once the online account has been established and the Username and Password have been issued by your Client Adviser, you will then have the capability to login and review the account and do any online transactions any time of the day, any day of the year.