Bridgeview Bank Group, along with subsidiaries, provides personal and business banking services. It offers checking, savings, certificates of deposit, and money market accounts. The company's lending portfolio includes home loans and refinancing options that include fixed-rate and adjustable rate mortgages, FHA loans, VA loans for veterans, and refinancing solutions; specialty loans and mortgages, such as balloon mortgages, jumbo loans, first time home buyer programs, investment property loans, modular home loans, and remodeling loans and services; consumer loans; and aircraft financing and leasing, asset-based financing.
Bank Official Website:
• www.bridgeviewbank.com
Bank Customer Service Telephone:
• 1-773 989-5737
Bank Routing Number:
• 071923569
Bank Swift Number:
• This Bank is not part of the SWIFT network, so there is no number.
Online Banking Mobile Apps:
• iPhone
• Android
• iPad
Branch Locator:
•Branch Finder Link
HOW TO LOGIN
Step 1 – Go to bridgeviewbank.com – At the top right side of the page, in the "Online Banking" area, enter your User ID. Click "Go"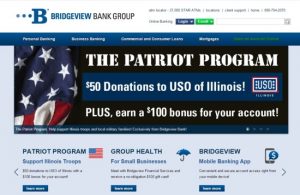 Step 2 – After submitting your User ID, you will be taken to a secure page where you will enter your password. Click "Sign In"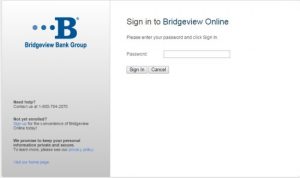 Step 3 – Once you've entered your login credentials, you will be directed to your Online Banking page where you will be able to move forward with your online banking business.
Forgotten Password – If you find you're unable to recall your password, this bank requires that you contact the bank by telephone or by walking into any one of the banking establishments, to speak with a banking representative for assistance with a password reset. Once your password is reset, you will regain access to your account and may resume your banking business.
HOW TO ENROLL
Step 1 – When you're prepared to enroll in online banking services, this bank requires that you make your selection by clicking the bubble in front of your respective choice. You must then review and agree to the "Online Banking Disclosure" – Click "I Agree" and then click "Continue"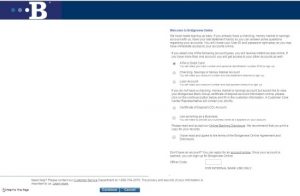 Step 2 – You will then be guided to an enrollment form, complete all of the required information. Click "Continue"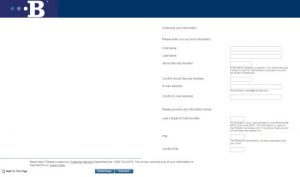 Step 3 – From here you will be prompted privately to complete your enrollment. Once you've completed your enrollment, you will gain access to your account and may now access your account 24 hours daily, any day of the year.