Brighton Bank, a community bank, provides financial products and services. It offers personal checking accounts that include Brighton ultimate accounts, Brighton select, Brighton value, and free select checking accounts; commercial and small business checking accounts; and select savings accounts, FDIC insured money market accounts, certificate of deposits, and IRA. The company also provides business loans that include construction loans, commercial real estate loans, letters of credit, and small business administration loans; consumer loans that include auto, personal, boat, recreational vehicle.
Bank Official Website:
• www.brightonbank.com
Bank Customer Service Telephone:
• 1-(801) 484-0300
Bank Routing Number:
• 124302503
Bank Swift Number:
• This Bank is not part of the SWIFT network, so there is no number.
Online Banking Mobile Apps:
• iPhone
• Android
• iPad
Branch Locator:
•Branch Finder Link
HOW TO LOGIN
Step 1 – Go to www.brightonbank.com – In the bar at the top of the page, enter your Access ID and Passcode. Click "Login"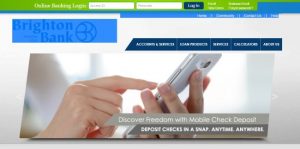 Step 2 – After you've entered your login credentials, you will be directed to your Online Banking page where you may begin doing your online reviews and any needed transactions.
Forgotten Passcode – If you're unable to recall your passcode, go to the "Online Banking Passcode Reset" page. Enter the required information. Click "Submit"

You will then receive your passcode information at the email address you have on file with the bank. You may then resume conducting your banking business.
HOW TO ENROLL
Step 1 – If you're ready to enroll in this bank's online banking services, you will first be required to review, acknowledge and agree to the "Electronic Disclosure Consent Statement" – After reviewing the terms, click the acknowledgement box and then click the "I Agree" button.

Step 2 – After reviewing and agreeing to the terms, you will be guided to an enrollment form. Complete all of the required information contained in the enrollment form. Click "Continue"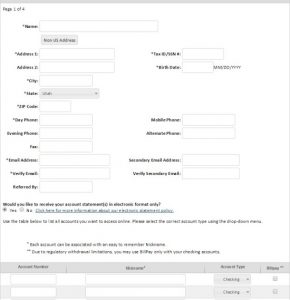 Step 2 – After completing the information on the first form, you will be privately prompted to complete the remaining pages of the enrollment process. Once complete, you will then have the ability to login to your Online Banking account and proceed with any desired banking business completely at your own discretion, 24 hours daily, 365 days per year.