Fifth Third Bank provides banking products and services for personal and business needs. Its personal banking products and services include checking accounts, savings accounts, preferred programs, credit cards, debit cards, real life rewards, reloadable prepaid cards, cash banking, mortgages, equity lines and loans, auto financing, personal lines of credit and loans, CDs, IRAs, investments, insurance strategies, planning center, Internet banking and online bill payment, mobile banking, overdraft coverage, early access, and identity theft protection.
Bank Official Website:
• www.53.com
Bank Customer Service Telephone:
• 1-800-972-3030
Bank Routing Number:
• 071923909
Bank Swift Number:
• FTBCUS3C
Online Banking Mobile Apps:
• iPad
• iPhone
• Android
Branch Locator:
• Branch Finder Link
HOW TO LOGIN
Step 1 – Go to Fifth Third Bank's Website and enter your User ID and Password located under Internet Banking on the upper, right hand side of the page.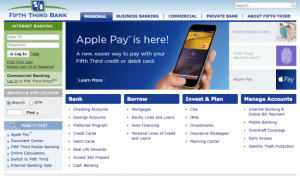 Forgot User ID/Password – If the user has forgotten their User ID/Password, they must visit This Webpage . It will direct you to a page that offers the customer service telephone line (1-800-972-3030) to reach a bank member for further assistance. Users can also reset their Passwords online by visiting This Webpage, then entering their Internet Banking ID and Verifying Identity.
HOW TO ENROLL
Step 1 – Go to Fifth Third Bank Enrollment Webpage by clicking on the First Time User link, located underneath the login button.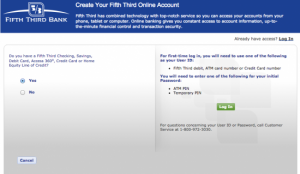 Step 2 – Choose whether on not you have a card with the bank. If yes, click the Log In button which will bring you to This Webpage.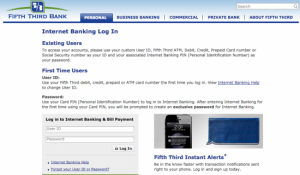 Step 3 – Type in your Fifth Third Bank card number into the User ID bar.
Step 4 – Type in your pin number into the Password bar, then click Log In.