Lee Bank and Trust Company offers personal and commercial banking services. The bank was founded in 1932 and is based in Pennington Gap, Virginia.
Bank Official Website:
• www.lbtc.com
Bank Customer Service Telephone:
•276-546-2211
Bank Routing Number:
• 051404163
Bank Swift Number:
•This BANK is not part of the SWIFT network, so there is no number.
Online Banking Mobile Apps:
• iPhone
• Android
Branch Locator:
•Branch Finder Link
Lee Bank & Trust Company Online Banking Login
HOW TO LOGIN
Step 1 – Go to www.lbtc.com – At the bottom of the home page, click the "Online Banking" bubble.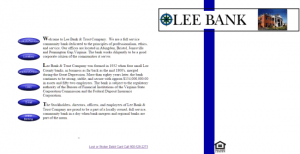 Step 2 – After clicking "Online Banking," you will arrive at the Online Banking Access page. At the top left side of the box presented, click "Access Your Account." This will begin your login process.
Step 3 – As you click the "Access Your Account" link, you will then be taken to the "Log In to You Account" page. Enter your User ID. Click "Continue"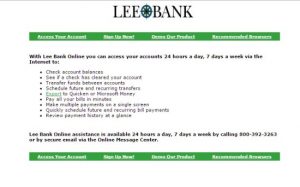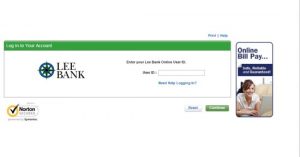 Step 4 – Once you've continued, you will be guided to a separate security page. You must verify that the image that you see on this page is the one you had selected at enrollment. If the image is correct, enter your password and click "Login"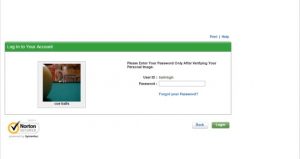 Step 5 – You will then be directed to your Online Banking page and will have the ability to proceed with any reviews and/or transactions. – If the image is not present or is incorrect, do not enter a password but contact the bank immediately.
Forgotten Password – If you are unable to remember your password, begin by going to the "Creating Your New Password" page. Enter the required secure information into the boxes provided. Click "Continue"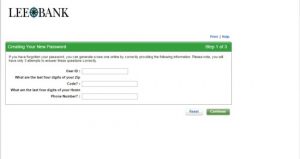 As you continue on to steps 2 and 3, you will be guided privately through the remainder of the secure process and will be able to reset your password online. Once complete, you will regain access to your Online Banking services and will then have the ability to resume all banking business as usual.
HOW TO ENROLL
Step 1 – When you're prepared to enroll in online banking services, begin by going to the Sign Up Page. You must complete the entire form presented to include opening the  "Electronic Funds Transfer Disclosure and Agreement" reviewing it and agreeing to it by clicking the acknowledgement box at the bottom of the page. Click "Next Step"
Step 2 – From here you will be prompted privately through the rest of the enrollment process. You will choose your User ID, your password and set up added security steps to protect your online banking information. Once you've completed the enrollment process, you will then be able to login any time, day or night to complete any needed banking business.