Texas Advantage Community Bank, National Association offers personal and commercial banking services. The bank was founded in 2006 and is based in Alvin, Texas.
Bank Official Website:
•www.texasadvantagecommunitybank.com
Bank Customer Service Telephone:
•  1 (281) 388-5200
Bank Routing Number:
• 113125445
Bank Swift Number:
• This BANK is not part of the SWIFT network, so there is no number.
Online Banking Mobile Apps:
• Andriod
Branch Locator:
•Branch Finder Link
Texas Advantage Community Bank Online Banking Login
HOW TO LOG IN
Step 1 – If a user wants to access their online bank account they should go to the bank´s Homepage where they can look for the ´Online Banking Login´ towards the bottom right of the page. They then must enter their ´Access ID´ and ´Passcode´ in the blank fields. They must also select the type of banking they wish to log in to from the drop down menu and then click on ´Log In´.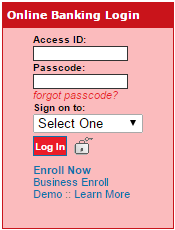 Forgotten Access ID/Passcode
Step 1 – If users can not remember their passcode they should look for ´Online Banking Login´ at the center right of the homepage and then they should click the link just below called ´Forgot Passcode´.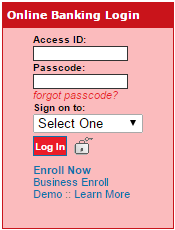 Step 2 – Users arrive at a new page where they must enter their Áccess ID´,  ´Tax ID/Social Security Number´ and ´Account Number´. Then they should click on ´Submit´.
If a user can not remember their access ID they can contact the bank by telephone on 1 (281) 388-5200. Alternatively if the customer prefers to speak to someone in person they can visit their ´Local Branch´.
HOW TO ENROLL
Step 1 – If users would like to start banking online with Texas Advantage Community Bank they must enroll by going to the banks homepage and looking for ´Online Banking Login´ towards the center right of the page. Here they will find a link ´Enroll Now´ which they must click on.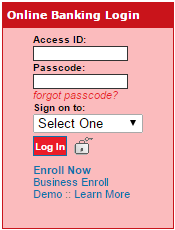 Step 2 – The next page requires the user to agree to the terms and conditions of the bank by checking the box at the bottom of the page and clicking on ´I Agree´.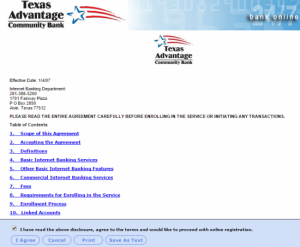 Step 3 – On this page the user is required to complete the´Blank Fields´ with the relevant information. Then they must click ´Continue´.
Required
Name
Address
ZIP code
Tax ID/Social Security Number
Date of birth
Daytime telephone number
Email address