As of April 27, 2017, The Pleasant Hill Bank was acquired by Goppert Financial Bank. The Pleasant Hill Bank offers personal and commercial banking services. The bank was founded in 1934 and is based in Pleasant Hill, Missouri. The Pleasant Hill Bank operated as a former subsidiary of Goppert Financial Corp.
Bank Official Website:
• pleasanthillmerchant.tripod.com
Bank Customer Service Telephone:
• 1-(816) 540-5101
Bank Routing Number:
• 101219279
Bank Swift Number:
•This BANK is not part of the SWIFT network, so there is no number.
Online Banking Mobile Apps:
• No Mobile Apps Available
Branch Locator:
•Branch Finder Link
The Pleasant Hill Bank Online Banking Login
HOW TO LOGIN
Step 1 – Go to www.thepleasanthillbank.com – As you arrive at the home page, on the right side of the page in the "Online Banking" box, enter your Username. Click "Go"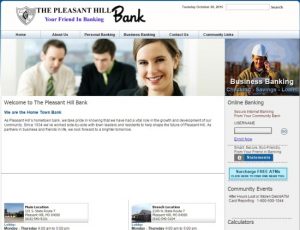 Step 2 – As you submit your username, you will be guided to "Sign on to Online Banking" page. Here you will verify your Username and then click "Continue with Security Code"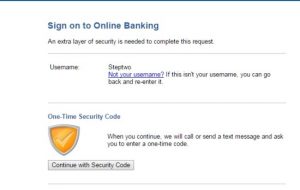 Step 3 – The next area will allow you to choose the method in which you would like to receive your one time code. Should you choose to receive your code by text message, you will be taken to an area where you would enter your mobile number.
Step 4 – Once you select your method of receiving your one time online code and have received that code, you will then be taken to an area where you must enter that code.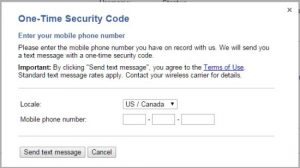 Step 5 – Once the code is submitted, you will be prompted privately through the remainder of your login process where you will next enter your password. You will then be directed to your Online Banking account where you will have the ability to conduct any banking transactions.
Forgotten Password – If you have forgotten your password, for the security of your personal information, you will be required to either call customer service at 1-(816) 540-5101 or you may walk into one of the branches for further assistance with your password reset.
HOW TO ENROLL
Step 1 – If you're prepared to enroll in Online Banking, you must begin with the first page of Enrollment. Complete all of the required fields and add any additional banking accounts you would like to view inside of your online banking account. Click "Continue Enrollment."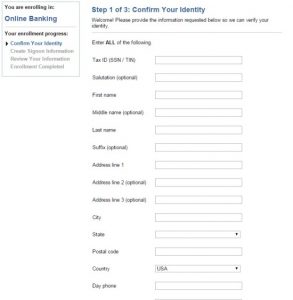 Step 2 – Once you've submitted your initial personal information, you will then be prompted, privately, through the remaining three steps of enrollment. As you complete your enrollment, you will be able to then login to your account with your Username and Password and begin using your account to review balances and conducting transactions.