Trailwest Bank provides community banking services. The company offers personal banking services, including checking, savings and money market, retirement, health savings, and certificates of deposit accounts; consumer financing and real estate loans; and other services. It also provides commercial banking services, such as checking and savings; and commercial real estate, business loans, lines of credit, agriculture loans, and other loans.
Bank Official Website:
• trailwest.bank
Bank Customer Service Telephone:
• 406-273-2400
Bank Routing Number:
• 092901560
Bank Swift Number:
•This BANK is not part of the SWIFT network, so there is no number.
Online Banking Mobile Apps:
• iPhone
• Android
Branch Locator:
•Branch Finder Link
HOW TO LOGIN
Step 1 – Go to trailwest.bank – In the top left side of the home page, located inside of the "Online Banking" box, enter your Login ID. Click "Sign In"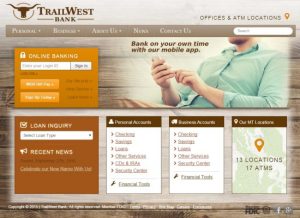 Step 2 – After you've signed in with your Login ID, you'll be taken to a separate secure page to enter your password. Click "Login"

Step 3 – Once you've submitted your online login credentials, you will then be directed to your Online Banking page. You may now conduct your banking business 24/7.
Forgotten Password – On the password page, when you are logging in, should you find you're unable to recall your password, click the "Forgot Password" box. Click "Login" You will be prompted through the remainder of the reset process privately.

After you've completed the reset process, you will regain access to your account and may now resume your banking business.
HOW TO ENROLL
Step 1 – From the same location where you would login with your password for login or forgotten password, if you need to enroll, you will also do this during login by clicking the "First Time User" box. Click "Login"

Step 2 – Once you've clicked the First Time User box and logged in, you will be prompted through the entire enrollment process privately to protect your online banking information. Once you've completed the enrollment process, you will then be able to do your online banking 24 hours daily any time of the year.