AccessBank Texas is committed to being the "Community Bank of Choice" by developing an outstanding reputation of providing superior customer service, competitive pricing and products, and a focused business development culture, all which exceed our customers and shareholders expectations. To provide value to our customer, staff, and stockholders, we must grow both assets and profit in order to enhance our ability to provide high quality, competitive banking services and products to our community as well as provide a return for our stockholders.
Bank Official Website:
• www.accessbanktx.com
Bank Customer Service Telephone:
• 1 (940) 382-3962
Bank Routing Number:
• 111925744
Bank Swift Number:
• This BANK is not part of the SWIFT network, so there is no number.
Online Banking Mobile Apps:
• iPhone
• iPad
• Android
Branch Locator:
•Branch Finder Link
HOW TO LOG IN
Step 1 – To log in to their online account users must find the banks Homepage and go to the ´Online Banking Login´ and enter their ´Access ID´ and Passcode´ into the blank fields. Then click ´Login.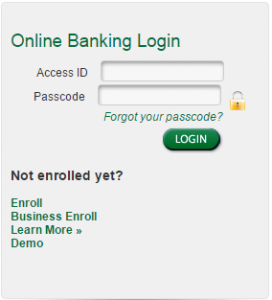 –Forgotten User ID/Password
Step 1 – Users who can not find or remember their passcode must click on the link ´Forgot Your Passcode´ which is below the ´Online Banking Login´ on the homepage.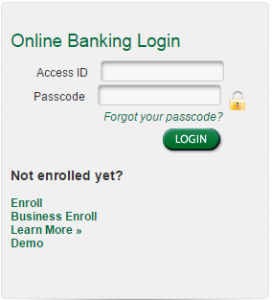 Step 2 – The next page requires the user to complete the blank fields with their ´Access ID´, ´Social Security Number/Tax ID´ and ´Account Number´ and then click ´Submit´.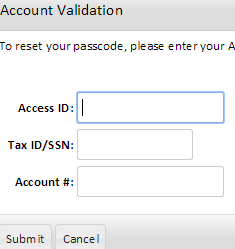 If a customer can not remember or has lost their their Access ID they can contact the bank directly by telephone on 1 (940) 382-3962 or alternatively visit their Local Branch for more help.
HOW TO ENROLL
Step 1 – To become an online account holder the customer must click on the link ´Enroll´ which is on the Homepage below ´Online Banking Login´.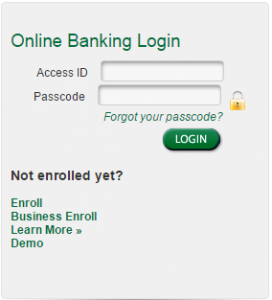 Step 2 – Users are directed to a second page where they must check the box to say they agree to the bank´s terms and conditions,  click on the link ´Accept´ at the bottom of the page.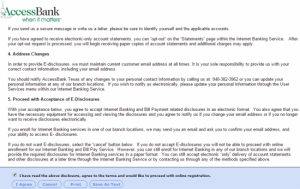 Step 3 – Users are directed to a final page where they must complete the ´Blank Fields´.
Required
Name
Address
Social security number/Tax ID
Date of birth
ZIP code
Day telephone number
Email Address