AllNations Bank operates as a commercial bank and offers various financial products and services to its customers. AllNations Bank was formerly known as The First National Bank Of Calumet and changed its name to AllNations Bank in 2004. AllNations Bank was founded in 1901 and is headquartered in Calumet, Oklahoma.
Bank Official Website:
• www.anbok.com
Bank Customer Service Telephone:
• 1 (405) 893-2240
Bank Routing Number:
• 103107004
Bank Swift Number:
• This BANK is not part of the SWIFT network, so there is no number.
Online Banking Mobile Apps:
• No Mobile Apps Available
Branch Locator:
•Branch Finder Link
HOW TO LOG IN
Step 1 – If a user wishes to access their online account they should go to the bank´s Homepage and look for ´Online Banking Login´ at the bottom right of the page. Here they should enter their login details login the blank fields and click ´Login. This is a secure login facility and all personal details are private and confidential.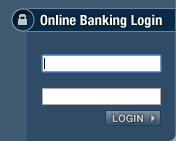 Forgotten User ID/Password
Step 1 – If a user can not find or remember their login details they should get in touch with the bank to resolve these issues. They can do this by either telephoning the bank at one of their branches or if the customer prefers they can visit their Local Branch in person for further advice.
Main, Calumet telephone 1 (405) 893-2240
Shawnee telephone 1 (405) 273 0202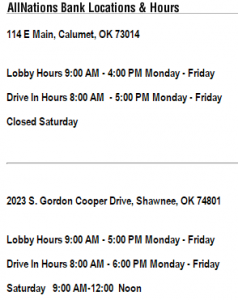 HOW TO ENROLL
Step 1 – If a holder of an existing account with AllNations Bank wishes to start an online account they should visit their ´Nearest Branch´ where they can complete an online banking enrollment application. To check locations and lobby hours the user can check the bank´s website ´Location Finder´or they can click the link here in ´How To Enroll´ called ´Nearest Branch´.