Bank of Abbeville & Trust Company provides personal and business banking products and services. Its personal banking products and services include checking accounts, such as regular checking, e-checking, senior citizen, student, and negotiable order of withdrawal (NOW) accounts; savings accounts, including passbook savings, Christmas club, and individual retirement accounts, as well as certificates of deposit; and other services, such as Internet banking and bill pay, ATM card, Visa check card/debit card, telephone information service, safety deposit box rentals, direct deposit and wire transfers, night deposit, U.S. savings bonds.
Bank Official Website:
• www.bankofabbeville.com
Bank Customer Service Telephone:
• (337) 893-0437
Bank Routing Number:
• 065203729
Bank Swift Number:
• This BANK is not part of the SWIFT network, so there is no number.
Online Banking Mobile Apps:
• No Mobile Apps Available
Branch Locator:
•Branch Finder Link
HOW TO LOGIN
Step 1 – Go to www.bankofabbeville.com – Go to the "Online Banking Login" area located at the bottom left side of the home page. Enter an Access ID and Passcode then click the "Log In" button
Step 2 – Once you've clicked the log in button you will be taken to your online account to review your account and conduct transactions
Forgot Passcode – If you are unable to recall your passcode, return to the  Online Banking Login area and click the "Forgot Your Passcode?" link. You will then be directed to the "Online Banking Passcode Reset" page and provide the required information as follows:
Your Access ID
Your Tax ID Number or Social Security Number
Your Account Number
Click "Submit"
Once you have submitted your information you will be guided privately through the remainder of the process and will be provided access to reset your passcode. Once your passcode has been reset, you will be able to log in and resume your online banking capabilities.
HOW TO ENROLL
Step 1 – If you would like to enroll in online banking go to This Page – You must have an account with the bank in order to be able to access the enrollment page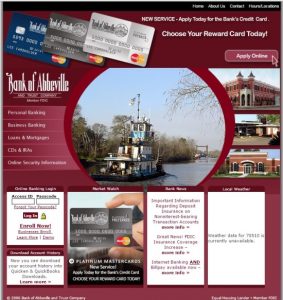 Step 2 – Go to the "Online Banking Login" area located at the bottom left portion of the website. Inside the box, click the "Enroll Now!" link and you will be taken through all instructions privately for your security.
Step 3 – Once you have completed all of the requirements of the bank to enroll in online banking, you will be able to log in to your account and begin utilizing all of the online banking features offered