Amalgamated Bank of Chicago provides commercial and consumer banking services in Chicago. The company offers a line of deposit accounts, including checking, savings, and money market accounts; and individual retirement accounts. Its lending lines include personal loans, mortgages, and lines of credit; and business loans, such as working capital lines of credit, equipment loans, construction loans, and commercial mortgages. The company also provides bank cards; merchant services; trust services, including corporate trust, institutional trust and investment, investment management, personal trust and investment, and real estate trust.
Bank Official Website:
• www.aboc.com
Bank Customer Service Telephone:
• 1 (312) 822-3015
Bank Routing Number:
• 071003405
Bank Swift Number:
• AMCHUS41
Online Banking Mobile Apps:
• iPhone
• Android
Branch Locator:
•Branch Finder Link
Amalgamated Bank of Chicago Online Banking Login
HOW TO LOG IN
Step 1 – Users wishing to log in must go to the bank´s Homepage where they should look for ´Personal Banking´ towards the bottom left of the page. Here they should click on ´Online banking´.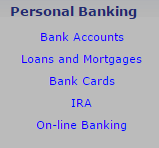 Step 2 – On the next page the user should click the big red link ´ABOC Express´.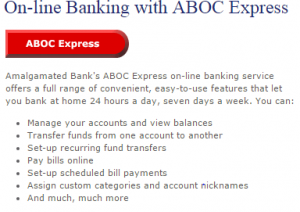 Step 3 – The users are taken to another page where they must enter their ´Access ID´ and click ´Submit´.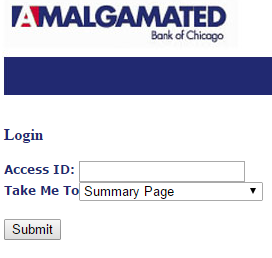 Forgotten User ID/Password
Step 1 – If a user can not find or remember their login details they should contact the bank. They can do this by calling 1 (312) 822-3015. If the customer prefers they can visit their Branch to speak to someone in person for further advice.
Step 2 – The bank can be contacted also by using their online messaging service where users are required to complete the ´Blank Fields´.
Required
Name
Business name
Address
ZIP code
Telephone number
FAx
Email address
Questions/Message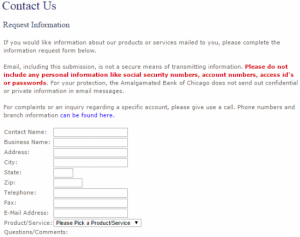 HOW TO ENROLL
Step 1 –  To start banking online a customer must enroll by going to the bank´s homepage and clicking ´Online Banking´ which is just below ´Personal Banking´ at the bottom left of the page.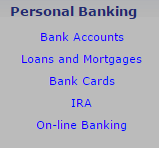 Step 2 – The next page requires the user to click on the small blue link ´Enroll Now´.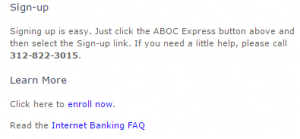 Step 3 – The final page to which the user is directed contains ´Blank Fields´ which must be completed. The user must also review the bank´s terms and conditions by clicking on the link. The user must then click ´Submit´.
Required
Name
Email Address
Account number
Account type
ZIP code