BankNewport provides personal and business banking services in Rhode Island. It offers checking and savings accounts; and boat, auto, unsecured personal, home equity, lines of credit, term, small business administration, and commercial real estate loans, as well as mortgages. The company also provides cash management, eBanking, bill pay, eDocuments, mobile banking, and other services. BankNewport was formerly known as Bank of Newport and changed its name to BankNewport in April 2005. The company was founded in 1819 and is based in Middletown, Rhode Island.
Bank Official Website:
•www.banknewport.com
Bank Customer Service Telephone:
• 1-877-709-2265
Bank Routing Number:
• 211574642
Bank Swift Number:
• This BANK is not part of the SWIFT network, so there is no number.
Online Banking Mobile Apps:
•
No Mobile Apps Available
Branch Locator:
•Branch Finder Link
HOW TO LOGIN
Step 1 – Go to www.banknewport.com – After you arrive to the home page, in the "eBanking Login" box at the top left side of the page, enter your User ID. Click "Login to Your Account."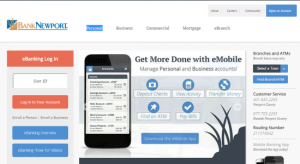 Step 2 – Once you've entered your User ID, you will then be taken to a secure page where you will identify the image you had chosen at enrollment, if it's accurate then enter your password, so that you may proceed to access your account. Click "Login"
Step 3 – After you've entered your private credentials and submitted both, you will be sent to your Online Banking account for your review.
Forgotten Password – Should you fail to recall your password, go to the "Forgot Password" page and enter the required identifiers into the fields provided. Click "Submit."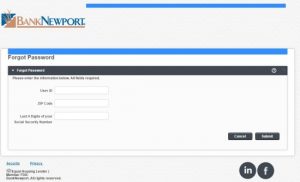 After you submit your information, you will be guided, privately, through the security process. You will then reset your password and regain access to your Online Banking account.
HOW TO ENROLL
Step 1 – If you feel you're now prepared to enroll in online banking services, begin by going to the "Registration Disclosures and Agreements" – In order to proceed with your enrollment, you must read and agree to the terms. After you've read the registration agreement information, you must acknowledge that you've read the terms by clicking the acknowledgement box, after which, you must click the "I accept these terms" button, both at the bottom of the page.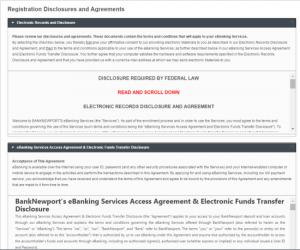 Step 2 – When you click the acknowledgement and the acceptance, you will immediately be taken to registration form. Complete the required fields in the online forma and then click "Submit" From there you will be prompted through the remainder of your enrollment.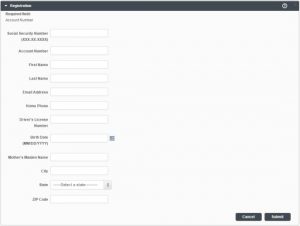 Step 3 – As soon as you have completed  your enrollment secure set up and all have been verified, you will then be able to login to your account with the User ID and Password that you have selected and continue on with conducting your reviews and  banking transactions.