The Andover Bank (Andover, OH), an independent community bank, provides personal and business banking products and services. Its personal banking products and services include checking and savings accounts, certificates of deposit, traditional and Roth individual retirement accounts, and health savings accounts; mortgage loans, consumer/personal loans, home equity loans, home equity line of credit, auto loans/RV and boat loans, personal unsecured loans, loans secured by personal savings and certificates, ready cash overdraft protection and unsecured personal line of credit.
Bank Official Website:
• www.andoverbankohio.com
Bank Customer Service Telephone:
• 1(888) 343-2200
Bank Routing Number:
• 041208719
Bank Swift Number:
• This BANK is not part of the SWIFT network, so there is no number.
Online Banking Mobile Apps:
• No Mobile Apps Available
Branch Locator:
•Branch Finder Link
HOW TO LOG IN
Step 1 – If a user would like to access their online account they should go to the banks Homepage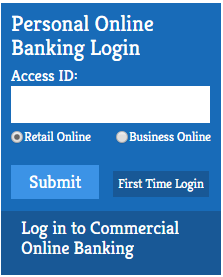 and look for `Personal Online Banking Login` at the top left side of the page. Here they must enter their `Access ID` and then click `Submit`.
Forgotten User ID/Password
Users who can not remember any of their log in details are requested to contact the bank themselves either by calling the telephone number 1(888) 343-2200 or by going to visit their `Local Branch` and speaking with a staff member who will be able to help them retrieve their missing details..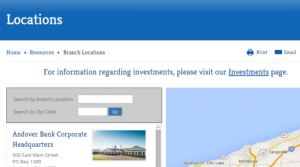 HOW TO ENROLL
Step 1 – If a customer would like to start banking online they need to visit the bank`s homepage where they should look for `Personal Online Banking Login` at the top left of the page. Below this there is a link `First Time Login` which they must click on.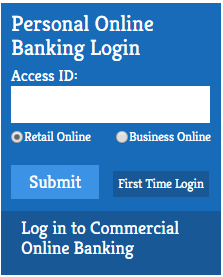 Step 2 – The next page requires the user to enter their `Social Security Number`, `Account Number`, `Account Type`and `ZIP Code`. The user must also agree to the bank`s terms and conditions and then finally click on `Submit` at the bottom of the page.