Bank Of Pontiac operates as a community bank that provides financial services to individuals and businesses in the Livingston County and surrounding communities. It offers checking accounts, savings accounts, and certificates of deposits. The company's lending lines include home equity, mortgage, consumer, agricultural, and business loans. It also provides services, such as ACH origination, wire transfer, business services, debit/ATM card, check reordering, automatic funds transfer, telephone banking, online banking and bill payment, and e-Statements; agricultural, trust, and discount brokerage services.
Bank Official Website:
• www.bankofpontiac.com
Bank Customer Service Telephone:
• 1-815 844-6155
Bank Routing Number:
• 071122263
Bank Swift Number:
• This BANK is not part of the SWIFT network, so there is no number.
Online Banking Mobile Apps:
• iPad
• iPhone
• Android
Branch Locator:
•Branch Finder Link
HOW TO LOGIN
Step 1 – Go to www.bankofpontiac.com – In the center of the home page you would enter your User ID and Password into their respective boxes. Click "Login"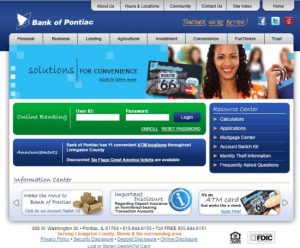 Step 2 – After you've entered your login credentials, you will be directed to your Online Banking account where you will be able to conduct your banking business as your schedule will permit 24/7.
Forgotten Password – If you're unable to remember your password, enter your User ID into the "Reset Password" page. Click "Submit"
Once you've submitted your User ID, you will be privately prompted through the security aspects of your password reset. When you've successfully passed the security steps, you will have the ability to reset your password and regain entry to your online account.
HOW TO ENROLL
Step 1 – If you're prepared to enroll in online banking you will begin by going to the Enrollment Page.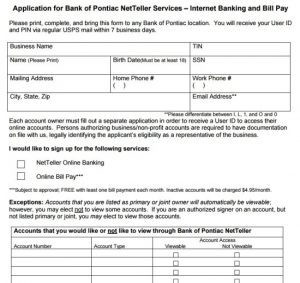 Step 2 – Once you're at the Enrollment Application, you will complete the form, print it and mail or walk it into a banking branch local to you. Once all of your information has been verified, you will be contacted at the email address that you have on file with the bank with login instructions. Once complete, you will have the ability to login on the home page and visit your Online Banking account to conduct your banking business at your convenience 24 hours per day, any day of the year.