Bank of Belle Glade provides personal and business banking products and services. The company offers personal checking and savings accounts, certificates of deposit, IRAs, and telephone banking services; business checking and money market accounts, certificates of deposit, and telephone banking services; and loan services, such as personal, business, and real estate loans. It serves people and businesses in the Western Palm Beach County area. The company was founded in 1963 and is based in Belle Glade, Florida.
Bank Official Website:
• www.bankofbelleglade.com
Bank Customer Service Telephone:
• 561-996-6711
Bank Routing Number:
• 067001246
Bank Swift Number:
•This BANK is not part of the SWIFT network, so there is no number.
Online Banking Mobile Apps:
• No Mobile Apps Available
Branch Locator:
•Branch Finder Link
HOW TO LOGIN
Step 1 – Go to www.bankofbelleglade.com and enter your username to gain access to your online account.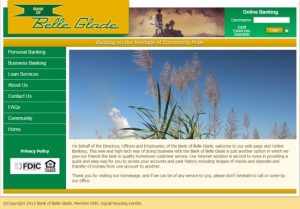 Step 2 – After you've entered your user name, you will be directed to your online account where you will be able to  review your account and take advantage of your features.
HOW TO ENROLL
Step 1 –  If you would like to enroll in online banking with the bank, go to  This Page and complete all of the required fields on the page as follows:
Your Social Security Number
Salutation (Mr. Mrs. Dr. etc..)
Your First name
Your last name
Your middle initial (optional)
Address
City
State
Zip or Postal Code
Select the country where you reside from the drop down box
Country
Day Phone
Evening Phone
Your email address
Account holder's date of birth (mm/dd.yyyy format
Account
Select your Account type from the drop down box provided
Your account number
Enter the whole dollar amount of your last deposit with the bank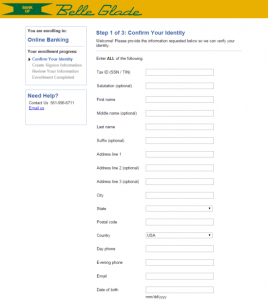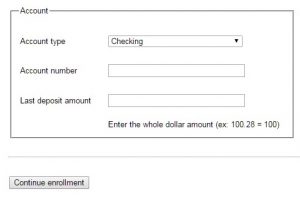 Step 2 – Once you've completed all of the required fields, you must click "Continue Enrollment." You will then be guided through the remainder of the enrollment process privately. You will create a Username, review the information you've entered and your enrollment will be complete
Step 3 – When the enrollment process is complete, you will then be able to login with your user name and you will be able to conduct your banking business online or from any supported  mobile device