As of January 6, 2017, Bank of Birmingham was acquired by Bank of Ann Arbor, Inc. Bank of Birmingham provides banking products and services to consumers and businesses. The company offers personal banking services, such as checking, savings, certificates of deposit (CDs), and money market accounts; consumer loans; mortgage programs, including jumbo loan programs, debt consolidation, interest only and conventional loans, home equity lines of credit, adjustable rate mortgages, and refinance or new purchase loans; mobile banking services; and mobile deposit solutions.
Bank Official Website:
• www.bankofbirmingham.com
Bank Customer Service Telephone:
• 1.248.723.7200
Bank Routing Number:
• 044000024
Bank Swift Number:
•This BANK is not part of the SWIFT network, so there is no number.
Online Banking Mobile Apps:
• iPhone
• Android
• iPad
Branch Locator:
•Branch Finder Link
HOW TO LOGIN
Step 1 – Go to www.bankofbirmingham.com – Enter your Access ID into the "Online Banking" box at the top left of the home page. Click "Submit"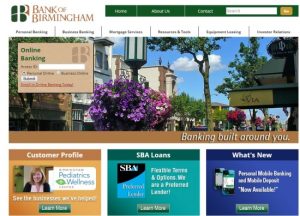 Step 2 – After you've clicked "Submit," you will be taken to a separate page in which you will enter your password to protect the integrity of security to your personal information.
Step 3 – You will then be directed to your personal online banking account where you will be able to review your account(s) and conduct any transactions
Forgotten Password – If you are unable to remember your password, click the "Contact" link at the top of the page. You will be presented with a form. Complete the following fields entering your information
Your first name
Last name
Your phone number
Your email address on file with the bank
Best method of contact (select from the drop down box)
Are you a current customer? (select from the drop down box)
Regarding (select from the drop down box)
In the comments box, let the bank know that you have forgotten your password and need a password reset.
This bank requires human verification – type the characters presented into the text box and click "Submit"
You will be sent a temporary password. You may also call the bank at 1.248.723.7200 if you would like to speak with someone in person to reset your password.
HOW TO ENROLL
Step 1 – If you have not yet enrolled in online banking service but would like to acquire an account, go to This Page – Enter the following information
Account number
Account type
Telebanc Password
Mother's Maiden name
Account holder's city of birth
Email address
Click "Submit"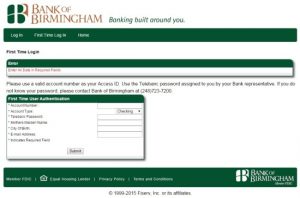 Step 2 – Once all of the initial fields are completed and submitted, you will be prompted privately through the remainder of the enrollment process. You will establish security questions, Access ID and a Password.
Step 3 – After enrollment is completed, enter your Access ID and Password. You will then be sent to your online banking account to do your banking business