As of October 4, 2013, Botetourt Bankshares, Inc. (VA) was acquired by Bank of Botetourt. Botetourt Bankshares, Inc. (VA) operates as the bank holding company for Bank of Botetourt that provides various banking services to individuals and small to medium sized businesses in Virginia. The company offers various deposit products, including checking accounts, savings accounts, money market accounts, certificates of deposit, and individual retirement accounts; and loans, such as commercial, commercial real estate, consumer, residential, mortgage, installment, and agricultural and raw land loans. It also provides safe deposit boxes.
Bank Official Website:
• www.bankofbotetourt.com
Bank Customer Service Telephone:
• 1.540.719.1880
Bank Routing Number:
• 051402550
Bank Swift Number:
•This BANK is not part of the SWIFT network, so there is no number.
Online Banking Mobile Apps:
• iPad
• iPhone
• Android
Branch Locator:
•Branch Finder Link
HOW TO LOGIN
Step 1 – Go to www.bankofbotetourt.com – once you've reached the home page, in the "Online Banking Access" box at the top left of the page, first "Select an Account" from the drop down box, where you would like to arrive after you login.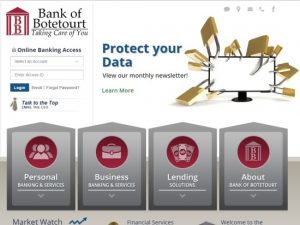 Step 2 – Enter your Access ID in the next field. Click the "Login" button. You will be taken to a separate page to enter your password to protect your online information security
Step 3 – Once you've entered your password, you will be taken to your online banking account page where you will be able to conduct your banking business and review account information
Forgotten Password – If you cannot remember your password, from the "Online Banking Access" box on the home page, click the "Forgot Password?" link. This will take you to the "Forgotten Password" page where you will provide the following information:
Access ID
The last 4 digits of your Tax ID number
Email Address
Click the "Submit" button
Your password will be emailed to the address you have on file with the bank
HOW TO ENROLL
Step 1 – If you have not yet enrolled for your online banking access, begin by going to This Page – Complete the following information for enrollment:
Enter your Social Security Number or TIN (no spaces or dashes)
Enter your Account number
Your Account Type (from the drop down box)
Zip Code
Click the Terms and Conditions link to review the terms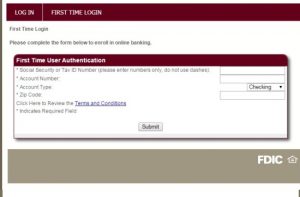 Step 2 – After you submit your information, you will be guided through the remainder of your enrollment privately through the system as to protect your selections and information Once enrollment is complete you will be able to access your Online Banking services by logging in with your Username and Password