City National Bank provides banking, trust, and investment services to entrepreneurs, professionals, businesses, and families. Its banking services include checking, savings, money market, and retirement accounts; and certificates of deposit, international banking, online services, and gift cards. The company's portfolio of loans comprises real estate financing, loans and lines of credit, equipment financing, and working capital financing.
Bank Official Website:
• www.cnb.com
Bank Customer Service Telephone:
• 1(800) 773-7100
Bank Routing Number:
• 122016066
Bank Swift Number:
• CINAUS6L
Online Banking Mobile Apps:
• iPad
• iPhone
• Android
Branch Locator:
• Branch Finder Link
HOW TO LOGIN
Step 1 – Begin by navigating to the City National Bank Online Home Page, where a blue "Sign In" button should be visible in the upper-right hand corner. Hover over this button and select the text that says "Online Banking".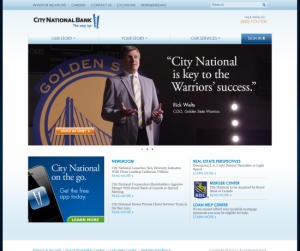 Step 2 – Next, you will be required to redirect your page to a new login site. Click the blue button to continue.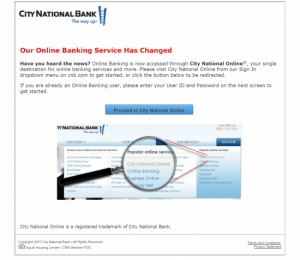 Step 3 – On the next page, you will be directed to enter your User ID and Password that you previously created for your online account. If entered correctly, you will now be logged into your Online Banking Account.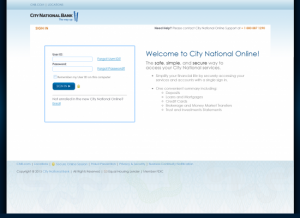 HOW TO REGISTER
Step 1 – Navigate your web browser to the City National Bank Online Home Page. Once you have reached the site, hover over the blue "Sign In" button and click the "Online Banking" text that drops down.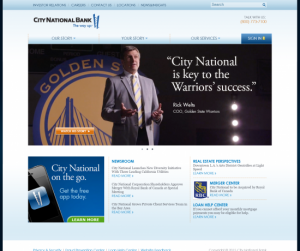 Step 2 – Click the button in the center of the screen to be directed to the next page.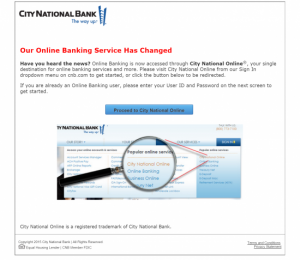 Step 3 – Next, click the underlined, blue text that says "Enroll" to continue.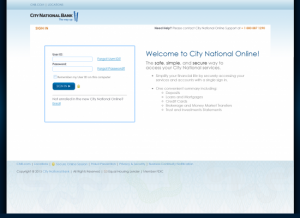 Step 4 – You will then be required to enter various points of personal information such as your credit card number, email address, your social security number, and other required pieces of information.