Bank of Cushing provides personal and business banking products and services. The company's personal banking products and services include simple, get checks, personal, Cimarron club, freedom, Now, and money market checking accounts, as well as savings accounts, certificates of deposit, and safe deposit boxes; and business banking products and services comprise commercial, sole proprietor Now, corporate, and money market checking accounts, as well as business deposit services and safe deposit boxes. It also offers local financing, consumer, commercial, and real estate loans and mortgages; and Internet banking, bill pay, and mobile banking services.
Bank Official Website:
• www.bankofcushing.net
Bank Customer Service Telephone:
• 918-225-2010
Bank Routing Number:
• 103103817
Bank Swift Number:
• This Bank is not part of the SWIFT network, so there is no number.
Online Banking Mobile Apps:
• No Mobile Apps Available.
Branch Locator:
•Branch Finder Link
HOW TO LOGIN
Step 1 – Go to the Bank of Cushing website and enter your "Access ID" under the "Online Banking Access" portion of the main webpage (located on the right). Once you have provided the following information, click Login.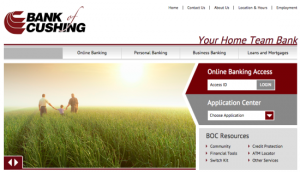 Step 2 – Supply your "On Line PIN" in the space provided and click Login to achieve access to your online bank account.

Forgot Online ID/PIN – If you have forgotten the following, you have to notify a bank worker (either in person or on the telephone) that you need help in the recovery process. The bank will ask you a series of security questions to protect your account from fraud. Once you have answered the questions with the correct information, the bank will assist you in the recovery of your Online ID or PIN.
HOW TO ENROLL
Step 1 – Choose the Online Banking Application option under the "Application Center" of the homepage. You will then be presented a form that needs to be filled out with the primary account holder information, account information, and co-owner Information (if applicable). You must also check the services you want to request and read the bank's internet banking disclosure. Once you have completed the form, click Submit Application for the bank to process the information and get you enrolled in the program.