Central Bank of Warrensburg provides personal and business banking services in Missouri. It offers checking and savings accounts; personal, home equity, and home loans; business, agriculture, and SBA loans, as well as lines of credit; credit cards; and health savings accounts. The company also provides online and mobile banking, brokerage, trust, cash management, wealth management, employee benefits, retirement, and merchant services. Central Bank of Warrensburg was formerly known as First Central Bank and changed its name to Central Bank of Warrensburg in June 2015.
Bank Official Website:
• www.centralbank.net
Bank Customer Service Telephone:
•  1(816) 525-5300
Bank Routing Number:
• 101903679
Bank Swift Number:
• This Bank is not part of the SWIFT network, so there is no number.
Online Banking Mobile Apps:
• iPhone
• Android
• iPad
Branch Locator:
•Branch Finder Link
Central Bank of Warrensburg Online Banking Login
HOW TO LOGIN
Step 1 – Go to www.centralbankwarrensburg.net – As you arrive at the home page, at the top left of the page in the "Account Login" box, enter your User ID. Click "Log In"
Step 2 – By submitting your User ID you will then be taken to the "Login" page. Select your secret word from the list and enter your Password. Click "Login."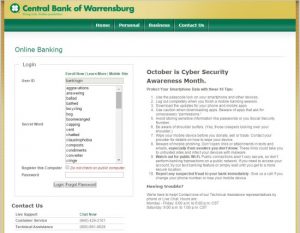 Step 3 – As you complete the login process, you will then be directed to your Online Banking account page where you will have the ability to now conduct any of your banking business.
Forgotten Password – Should you discover that you are unable to recall your password, begin by going to the Password Reset page. There will be four steps that will need to be privately completed before you may reset your password information, complete the required fields. Click "Submit"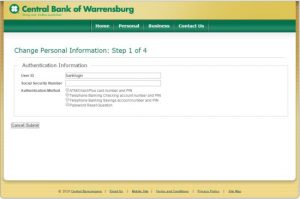 As you complete all four steps of the password reset requirements, you will regain access to your account and will again be able to conduct your banking business at your convenience.
HOW TO ENROLL
Step 1 – If you're prepared to enroll in online banking, you may begin by going to the "Self Registration" page. There will be three step required to complete enrollment with this bank. Begin by completing all of the required information on the first page. Click "Continue"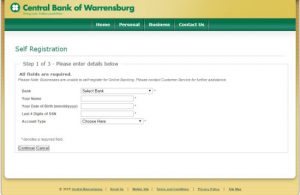 Step 2 – When you click "Continue" you will be prompted privately through the remaining pages of the registration process. Once completed, you will then have the capability of logging in and conducting any of your banking reviews and transactions.