Bank of Dade provides personal and business banking products and services. The company offers checking accounts, savings accounts, money market accounts, certificates of deposit, and individual retirement accounts; and consumer, commercial, and agricultural loans. It also provides money services, credit cards, telephone and online banking, and other services. The company was founded in 1956 and is based in Trenton, Georgia.
Bank Official Website:
• www.bankofdade.com
Bank Customer Service Telephone:
• 706-657-6842
Bank Routing Number:
• 067011760
Bank Swift Number:
• This Bank is not part of the SWIFT network, so there is no number.
Online Banking Mobile Apps:
• iPhone
• Android
• iPad
Branch Locator:
•Branch Finder Link
HOW TO LOGIN
Step 1 – Visit Bank of Dade's webpage and go to the "Login" section. Input both your "Access ID" and "Password", then click Login just below.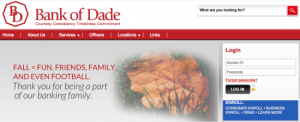 Forgot Access ID/Passcode – If you are having trouble remembering either your Access ID, contact the bank immediately (either in person or telephone) and inform them of your problem. A bank worker will then help you obtain the information you can't recall. If you are having difficulty with your Password, you have to reset it by clicking the Forgot passcode? link on the main webpage. This will redirect you to a page that request you to supply the following: Access ID, Tax ID/SSN, and Account #. Provide the info and click Submit to continue the resetting process.
HOW TO ENROLL
Step 1 – Read the following consent form diligently, if you agree to the terms then check the box and click I Agree.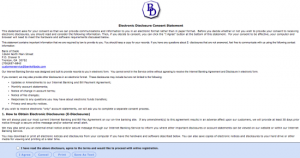 Step 2 – A window will pop up to confirm that you have an account with the bank, click OK. You will be provided another agreement, repeat the instruction of Step 1 by reading the agreement, checking the box and clicking I Agree if you concur.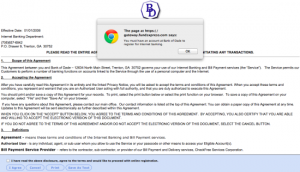 Step 3 – Last but not least, you will be presented the "Online Internet Banking Enrollment Form" that needs your information entered into the necessary fields. Input said information and click Continue when finished.