Bank of American Fork offers personal and business banking services. The company focuses on checking accounts, savings accounts, bank cards, loans, investments, and merchant services. Additionally, it provides online banking services. Bank of American Fork was founded in 2015 and is based in American Fork, Utah. Bank of American Fork operates as a subsidiary of People's Intermountain Bank.
Bank Official Website:
• www.bankaf.com
Bank Customer Service Telephone:
• 1-800-815-2265
Bank Routing Number:
• 124301025
Bank Swift Number:
• AMFOUS51XXX
Online Banking Mobile Apps:
• iPad
• iPhone
• Android
Branch Locator:
•Branch Finder Link
HOW TO LOGIN
Step 1 – Go to www.bankaf.com – Once you reach the home page, in the "Log In" box at the top left of the page, you must enter your User ID then click "Go." You would then be taken to a separate security page to enter your password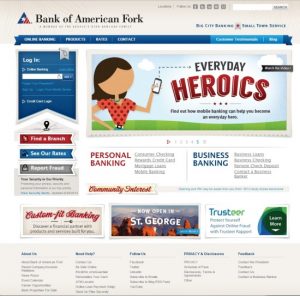 Step 2 – Once you have entered your User ID and Password you will be directed to your online banking area where you will be able to review your account and conduct transactions if needed.
Forgotten Password – Should you find that you're unable to recall your password, you will find a new feature called "Reset Password" on your online banking login page. Simply click the link in the menu bar. The system will request that you provide your Online Banking ID (your user ID). Provide the email address that the bank has on file for your account. After you have provided all of the required information you will receive an email within a 10 minute time frame, containing a link to use to reset your password. This link will expire in 2 hours from when it is sent. Again, you must provide the correct email address or your request will be denied. If this happens you may begin again. If you experience difficulty in acquiring the emailed link, you may need to call one of the bank branches.
HOW TO ENROLL
Step 1 – To register for online banking go to This Page  – in order to enroll online, you must establish a personal online banking ID and Password. You will need to have the following information:
Your Social Security Number
Your account number
The email address that you have on file with the bank
Should your application be accepted, you will be required to confirm your identity. The system will send you an email link that you must click on to confirm your identity
It's very important to understand that you must access the link from the same computer in which you completed your online banking information

Step 2 – You must then review the "Online Banking Agreement" in the link at the bottom of the page and agree to the terms before you will be allowed to acquire an online banking account
Once you've completed reviewing the Online Banking Agreement information click "agree" or "I do not agree"
If you agree you will be taken to the next step of the process and will be guided privately through the remainder of the enrollment process
Step 3 – After you have completed the enrollment process you may use your User ID and Password to login to and begin using the many features of  your online banking account