Bank of Greeleyville was established on April 25, 1935. Headquartered in Greeleyville, SC, it has assets in the amount of $82,840,000. Its customers are served from 2 locations. Deposits in Bank of Greeleyville are insured by FDIC.
Bank Official Website:
• www.bog1.com
Bank Customer Service Telephone:
• 1-843-426-2161
Bank Routing Number:
• 053207119
Bank Swift Number:
• This Bank is not part of the SWIFT network, so there is no number.
Online Banking Mobile Apps:
• No Mobile Apps Available.
Branch Locator:
•Branch Finder Link
Bank of Greeleyville Online Banking Login
HOW TO LOGIN
Step 1 – Go to www.bog1.com – On the left side of the page, under the clock, go to the "Online Banking" link and click. You will be taken to the "Online Banking" page. Go to the bottom of the page and click on the "Click here to enter Online Banking" link. You will then be guided to the "Login to Online Banking" page where you will enter your Online Banking ID and Online Banking PIN.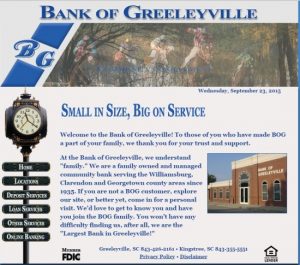 Step 2 – Once you've entered your Online Banking credentials, you will be directed to your Online Banking account where you will be able to navigate the site and conduct your online banking business
Forgotten Password – Go to the Login to Online Banking page. On the right side of the page you will see the "reset password" link. Once you click the link, it will take you to the "PIN Page Self Reset" page where you will enter:
Your Online Banking ID
The email address you have on file with the bank
An email subject
Click "Continue"
You will then guided through the remaining reset process privately. After your password is reset, you will regain access to your account and will be able to resume doing business within your Online banking account.
HOW TO ENROLL
Step 1 – If you are prepared to enroll in online banking services, go to This Page – print off the page, complete it and send it to:
Bank of Greeleyville
Online Banking Enrollment
PO Box 278
Greeleyville, SC 29056
Or you may take it to one of the bank branches.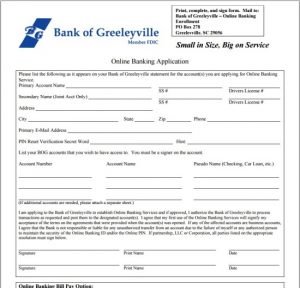 Step 2 – Once you've completed the form and provided your information to the bank, they will process your form and contact you with login information. You will then be able to login to your Online Banking account and proceed to review account information and conduct your business with the bank privately, any time of day or night.