The Bank of Hawaii Corporation (BOH) is a regional commercial bank headquartered in Honolulu, Hawaii. It is Hawaii's second oldest bank and its largest locally owned bank in that the majority of the voting stockholders reside within the state. Bank of Hawaii has the most accounts, customers, branches, and ATMs of any financial institution in the state (although BancWest's First Hawaiian Bankholds a greater number of dollars in deposits). The bank consists of four business segments: retail banking, commercial banking, investment services, and treasury. The bank is currently headed by Chairman, President and Chief Executive Officer, Peter S. Ho.
Bank Official Website:
• www.boh.com
Bank Customer Service Telephone:
• 1-888-643-3888
Bank Routing Number:
• 121301028
Bank Swift Number:
• BOHIUS77
Online Banking Mobile Apps:
• iPhone
• Android
• iPad
Branch Locator:
•Branch Finder Link
HOW TO LOGIN
Step 1 – Go to www.boh.com – Once you arrive at the home page, in the "Sign On To E-Bankoh" box, located on the upper left side of the home page, select a region and click the bubble in front of your selection. Enter your User ID. Click "Go"
Step 2 – After you've entered your User ID and submitted your information, you will be guided to a separate page where you will enter your password. Once submitted you will be directed to your personal Online Banking page where you will be able to conduct any of your personal Online Banking business at your convenience, any time day or night.
Forgotten Password – If you find you're unable to recall your password, you may contact customer service 24 hours per day at 1-888-643-3888. You also have the option of resetting your password from your PC.
You will have the option to change  your password by accessing e-Bankoh through your computer. Select the "Forgot Password" option on the password page. You will then be presented with a One-Time Security Code validation. Select a phone number to request an automated phone call to your home or business phone.

You will see a security code on your screen. When the automated system calls your phone, you will have 5 minutes to complete the process by typing the code into your phone.
Or
You have the option of requesting that an SMS text message be sent to your mobile phone. When the text message arrives, enter the code provided into the field provided on  your PC. The system will allow you only 15 minutes to complete the reset process.
You will then regain access to your personal Online Banking account.
HOW TO ENROLL
Step 1 – If you would like to enroll in online banking services begin by going to This Page – You will need to have your debit card PIN OR an account number along with the balance on your last bank statement. Click "Continue"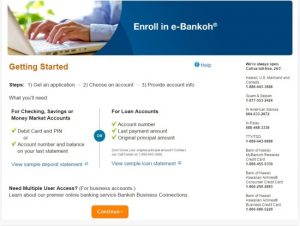 Step 2 – On the next page, answer the questions on the page by clicking the bubble in front of your selected answers. Click "Continue" You will then be taken to the third page of enrollment. Click the bubbles in front of your selections and, again, click "Continue" From this point, you will be guided privately through the remainder of your enrollment, providing personal information and setting up security for your account. Once enrollment is complete, you will have the ability to login to your account, review your balances and continue with any online banking business transactions.