Bank of India (BoI) is commercial bank with headquarters at Bandra Kurla complex, Mumbai. Founded in 1906, it has been government-owned since nationalisation in 1969. Bank of India has 5100 branches as on 31 January 2017, including 56 offices outside India, which includes five subsidiaries, five representative offices, and one joint venture. BoI is a founder member of SWIFT (Society for Worldwide Inter Bank Financial Telecommunications), which facilitates provision of cost-effective financialprocessing and communication services.
Bank Official Website:
• www.bankofindia.co.in
Bank Customer Service Telephone:
• 1-800-103-1906
Bank Routing Number:
• 026005458
Bank Swift Number:
• BKIDINBB
Online Banking Mobile Apps:
• iPhone
• Android
• iPad
Branch Locator:
•Branch Finder Link
HOW TO LOGIN
Step 1 – If you would like to login to your established Online Banking account, you must begin by going to This Page to login to your account. Enter your User ID and Password into their respective, provided fields. Remember that the password on this site is case sensitive. Click "Submit"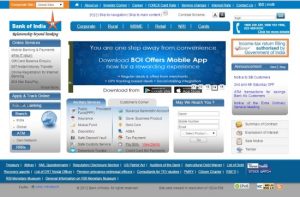 Login Page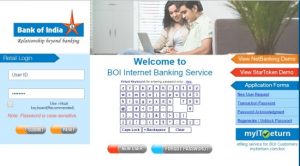 Step 2 – Once you've entered your login credentials and submitted your information you will be directed to your Online Banking account where you will be able to conduct any of your personal banking business
Forgotten Password – If you are unable remember your password, from the Login Page, click the "Regenerate/Unlock Password" link located on the left side of the page under "Application Forms." Go to This Page  and provide the following information.
Your Internet Banking User ID
Your Debit/ATM card number
Your Debit/ATM PIN
Your Debit/ATM Card expiration date (mm/yy)
Click "Submit"
For more immediate assistance you may contact the customer service number at 1-800-103-1906. Once the password is reset, you will regain access to your online banking services
HOW TO REGISTER
Step 1 – If you're prepared to Register for your Online Banking services, begin by going to This Page To Register – To begin you will need the following information:
Your Bank of India account number
Your ATM/Debit Card linked to the account number you provide
Your ATM/Debit card credentials
The mobile telephone number on file with the bank
Complete the require fields on this page. The bank requires human verification, enter the characters visible in the box into the text box. Click "Continue"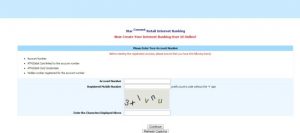 Step 2- Once you've entered your information on this page and clicked "Continue," you will be prompted, privately, to complete the remainder of the registration process. After you've registered and confirmed, you will then be able to login in with your User ID and Password to view your account and move forward with any banking transactions