Bank of Jackson Hole operates as a community bank that provides banking products and services to individuals and businesses in Jackson Hole valley. The company offers checking accounts, savings accounts, money market accounts, certificates of deposit accounts, health savings accounts, and individual retirement accounts; and business purchase loans, business lines of credit options, lot purchase loans, business or residential construction loans, second or investment home purchase loans, refinance options (of existing loans), letters of credit options, auto loans, recreational loans, boat loans, motorcycle loans, travel trailer/motor home loans, reserve checking loans.
Bank Official Website:
• www.bankofjacksonhole.com 
Bank Customer Service Telephone:
• 1.307.733.8064
Bank Routing Number:
• 102304099
Bank Swift Number:
• This Bank is not part of the SWIFT network, so there is no number.
Online Banking Mobile Apps:
• iPhone
• Android
• iPad
Branch Locator:
•Branch Finder Link
HOW TO LOGIN
Step 1 – Go to www.bankofjacksonhole.com – In the upper left side of the home page, click the "Online Banking Login" link. This will take you to another "Online Banking" page. To the top left of this page, click on the "Business & Personal Online Banking" link. This will take you to the "Login to Online Banking" page where you will begin by entering your Online Banking ID. Click "Sumbit."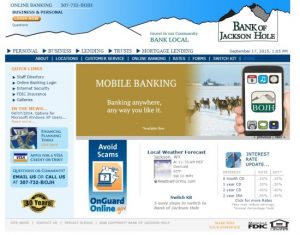 Step 2 – From here, you will be taken to a separate login page where you will enter your password. Once you've entered and submitted your credentials, you will be directed to your Online Banking account, where you will be able to proceed with your banking business.
Forgotten Password – If you are unable to remember your password, for your informational security, you will be required to call customer service at 1.307-733-8064 and speak with a representative for a password reset.
HOW TO ENROLL
Step 1 – If you're prepared to enroll in online banking services, you will be required to call customer service at 307.733.8064. Currently there is no online self-enrollment available.

Step 2 – Once you've contacted customer service and activated your online banking services, you may then login with a Online Banking ID and Password and do your banking business anywhere and at your convenience