Bank of Jamestown, a state charter bank, provides personal and commercial banking products and services. It offers checking, savings, money market, Christmas club, and individual retirement accounts; certificates of deposit; and debit cards. The company also provides home mortgage, consumer, and commercial loans; telebanker, identity theft, and night deposit services; Internet banking services; and safety deposit boxes. The company was founded in 1899 and is based in Jamestown, Kentucky with branch locations in Russell Springs and Jamestown, Kentucky.
Bank Official Website:
• www.bankofjamestown.com
Bank Customer Service Telephone:
• 1-(270) 343-3186
Bank Routing Number:
• 083905216
Bank Swift Number:
• This Bank is not part of the SWIFT network, so there is no number.
Online Banking Mobile Apps:
• iPhone
• Android
• iPad
Branch Locator:
•Branch Finder Link
HOW TO LOGIN
Step 1 – Go to www.bankofjamestown.com – Go to the "Internet Banking" box and click the "Secure Login" button at the bottom of the box. This will take you to bank's login page. Enter your User Name and click the "Login" button.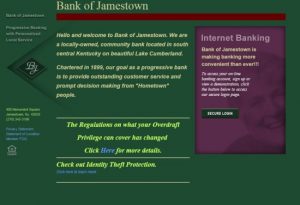 Step 2 – Once you've entered all of your login information and submitted it, you will then be directed to your Online Banking account where you will be able to proceed with your online banking review and transactions.
Forgotten Password – If you are unable to remember your online banking password, go to the login page and click the "Forgot Password" link. You will then be taken to the password reset page. Enter your User Name and "Submit" You will then be taken through the remaining portion of your process to reset your password. Once you've entered all of the required information, you will receive an email to the email address you have on file with the bank with instructions to reset your password.
HOW TO REGISTER
Step 1 – Go to This Page if you would like to register for Online Banking services and enter the following information in the required fields:
Your first name
Last name
Phone number
Email address
Your Social Security Number
Enter all account numbers you would like to review in your online bank account when you login
Click the "Online Banking Agreement and Disclosure."
Enter your "Invite Answer" (security code)
Click "Submit"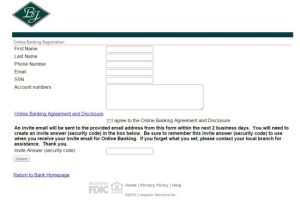 Step 2 – Once you've entered the information into the form and submitted, you will be guided privately through the system to complete your registration. Once your registration is complete you will be able to begin using your Online Banking services.