Bank of Nevada of La Vegas operates as a full-service bank. The Bank accepts deposits, makes loans, and provides other services for the public. Bank of Nevada operates in the United States.
Bank Official Website:
• www.westernalliancebancorporation.com
Bank Customer Service Telephone:
•  1- 888-880-0307
Bank Routing Number:
• 122401778
Bank Swift Number:
• This Bank is not part of the SWIFT network, so there is no number.
Online Banking Mobile Apps:
• No Mobile Apps Available.
Branch Locator:
•Branch Finder Link
HOW TO LOGIN
Step 1 – Go to www.bankofnevada.com – Once you're on the home page, in the "Online Banking Login" box at the top left of the page, enter your Access ID. Click "Login" and you'll be taken to the next secure page where you will enter your password.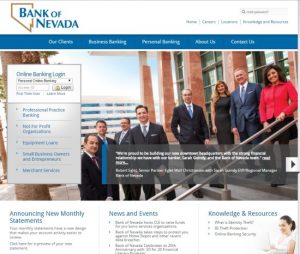 Step 2 – After you've entered your password and submitted it, you will be taken to your Online Banking page where you will then be able to conduct any of your reviews and/or transactions.
Forgotten Password – If you are unable to recall your password, this bank requires that you either contact them by phone at 1- 888-880-0307 or you may walk in to one of the branches for further assistance.
HOW TO ENROLL
Step 1 – When you're ready to enroll in online banking services with this bank, start by going to This Page – Complete all of the required fields and click "Submit." From here you'll be taken through the rest of your enrollment privately, as you will provide sensitive information and set up security for your account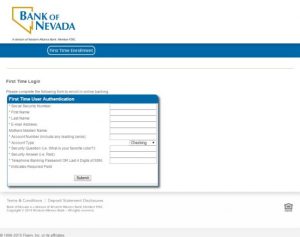 Step 2 – Once you have successfully completed enrollment, you will the be able to login with an Access ID and Password that you have created. You will be able to navigate your Online Banking services privately from that online location