Bank of Stockton is a community bank in California. The company offers mobile Internet and text banking; personal banking services, including checking and savings plans, individual retirement accounts, vehicle and home loans, personal and home equity lines of credit, personal loan and mortgage loan payment assistance, and debit cards; and business banking services, such as checking and savings plans, business credit, commercial real estate loans, ecash management, remote deposit, and merchant services.
Bank Official Website:
• www.bankofstockton.com
Bank Customer Service Telephone:
• 1-800-941-1494
Bank Routing Number:
• 321177803
Bank Swift Number:
• STKCUS66
Online Banking Mobile Apps:
• iPad
• iPhone
• Android
Branch Locator:
•Branch Finder Link
HOW TO LOG IN
Step 1  – To login to an account go to the Bank Of Stockton Homepage, at the top left side of the page is a box above which is written "Login to your accounts".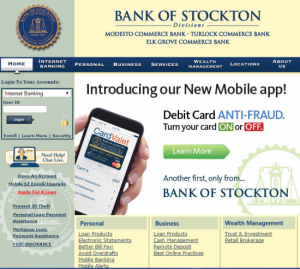 Step 2 – Next the user must select the type of login they require from the drop down menu then enter their user ID in the space provided and click ´Login´.
Step 3 – Input your Bank of Stockton "Password", then click Login.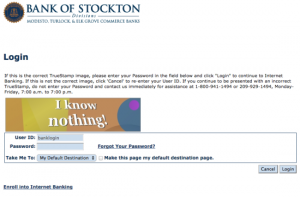 Forgot Username/Password If the user can not remember their User ID, they can contact the customer service center from 7:00 am to 7:00 pm Monday to Friday on 1 980) 0941-1494. As far as a forgotten Password goes, Users can click the Forgot Your Password link and input their User ID, Date of Birth, and SSN. Once all information has been inserted, click Next.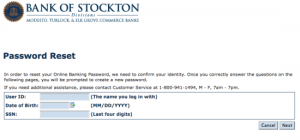 HOW TO ENROLL
Step 1 – For Bank Of Stockton account holders who wish to set up the online facility they must click Enroll which appears in the box at the top left hand side of the homepage.
Step 2 – The user will be guided to the terms and conditions of enrollment where they must click Accept.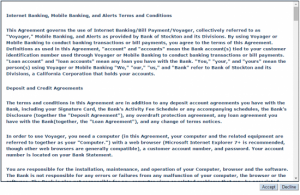 Step 3 –  Users are then guided to a third page where they are required to complete the blank fields.
Required
Social security number
Account number
Security word.