Bank of Whittier, National Association, a commercial bank, provides personal and business banking products and services. The company offers checking, savings, individual retirement, and money market accounts; certificates of deposit; credit and ATM/debit cards; and lines of credit, term, automobile financing, home improvement, home financing small business administration guarantee, commercial real estate, and letters of credit loans. It also provides safe deposit box rental services; and online banking services. The company was founded in 1982 and is based in Whittier, California with a branch location in Richardson, Texas.
Bank Official Website:
• www.bankofwhittier.com
Bank Customer Service Telephone:
• 1-562-945-7553
Bank Routing Number:
• 122239542
Bank Swift Number:
• This BANK is not part of the SWIFT network, so there is no number.
Online Banking Mobile Apps:
• No Mobile Apps Available
Branch Locator:
•Branch Finder Link
Bank of Whittier, National Association Online Banking Login
HOW TO LOGIN
Step 1 – Go to https://www.bankofwhittier.com/ – As you reach the home page, in the "Online Banking" box, located in the middle, right side of the page, enter your Access ID. Click "Login"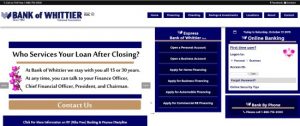 Step 2 – After submitting your Access ID, you will then be taken to a secure password page. Enter your password. Click "Submit"

Step 3 – Once you've entered and submitted your login credentials, you will be directed to your Online Banking account, where you will then be able to conduct transactions, review balances or any other banking business needed.
Forgotten Password – If you find that you're unable to remember your password, you may require a Password Reset. You may do this yourself, privately, online. Once you reach the "Forgotten Password" page, you must enter the required security information into the fields provided for you. Enter "Submit"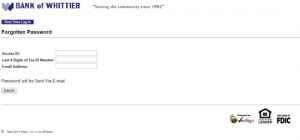 Once you've submitted your information, you will receive your password information in an email sent to the email address you have on file with the bank.
HOW TO ENROLL
Step 1 – If you're prepared to enroll in online banking services with this bank, begin with the "First Time User" page. Once you've arrive, enter your account number as your temporary Access ID and the last four digits of your Social Security Number as your temporary password. In the drop down box, select your account type for this login. Click "Submit"
Step 2 – Once you've submitted your temporary information, you will then be guided privately through the process of setting up your account to reflect any accounts you would like to review, you will select an Access ID and password. You will also set up personal security steps. After you've completed your enrollment, you will have the ability to login to your Online Banking account and proceed with doing any of your banking business 24/7, when it's most convenient for you.