First National Bank of Wiggins is baseFirst National Bank of Wiggins provides financial and investment services in the United States. It offers checking accounts, including regular checking account, club checking account, now checking account, and money market checking account; savings accounts, such as regular savings account and Christmas club savings account; certificate of deposit; loans, including consumer loans, commercial loans, and mortgage loans.
Bank Official Website:
• www.bankofwiggins.com
Bank Customer Service Telephone:
•  1-601-928-5233
Bank Routing Number:
• 065304673
Bank Swift Number:
• This BANK is not part of the SWIFT network, so there is no number.
Online Banking Mobile Apps:
• No Mobile Apps Available
Branch Locator:
•Branch Finder Link
HOW TO LOGIN
Step 1 – Go to www.bankofwiggins.com – Once you've reached the home page, in the upper right corner of the page, enter your Username. Click "Login"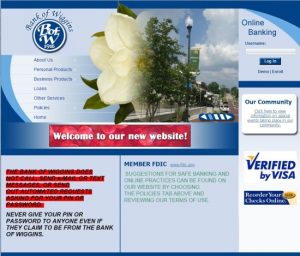 Step 2 – After you've submitted your Username, you'll be taken to a secure page where you will request a one time security code, by clicking "Continue with Security Code"
Step 3 – You will be taken to a security code selection page where you will choose to receive your one time security code by text or by receiving a telephone call. Make your selection by clicking the appropriate bubble. Click "Continue," you will be contacted according to your respective selection.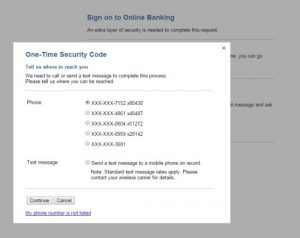 Step 4 – Next you will be asked to select your location from the drop down box and enter the phone number you would like to be contacted on. Click "Send Text Message"
Step 5 – Once you've received your code by telephone call or text message, enter the code into the text box. Click "Submit"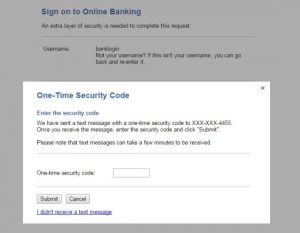 Step 6 – After the code you have received has been entered and submitted, you will be directed to your Online Banking page. You will now be able to conduct your banking business.
HOW TO ENROLL
Step 1 – If you would like to enroll in online banking this must be done by printing and completing an Enrollment Form – This form must be completed and returned to the bank by mail, fax or you may walk the form into the bank.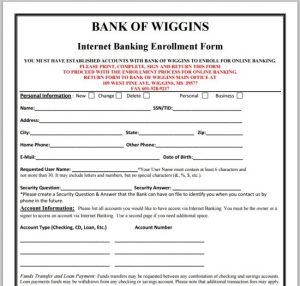 Step 2 – Once completed and returned to the bank with the address located at the top of the form, your information will be verified, your account will be initiated and you will be contacted so that you may begin using your Online Banking services.