Bank of Yazoo City, a chartered bank, provides banking products and services to retail, and small and medium business customers. It offers personal banking products and services, including checking, savings, individual retirement accounts, and certificates of deposit; and personal loans, such as real estate, residential construction, consumer, and auto loans, as well as home equity credit lines and personal line of credit.
Bank Official Website:
• www.bankofyazoo.com
Bank Customer Service Telephone:
• 1-662 751-1043
Bank Routing Number:
• 065300790
Bank Swift Number:
• This BANK is not part of the SWIFT network, so there is no number.
Online Banking Mobile Apps:
• iPhone
• iPad
Branch Locator:
• Branch Finder Link
HOW TO LOGIN
Step 1 – Go to www.bankofyazoo.com – As you arrive on the home page, in the "Account Login" box on the top left side of the page, enter your User ID and then your Password into the boxes provided. Click "Login"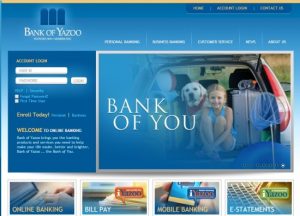 Step 2 – Once you've entered your online ID and Password, you will be directed to your Online account page where you will be able to proceed with your banking business.
Forgotten Password – If you are unable to recall your password go to the home page, enter your Login ID. You will then select the "Forgot Password?" box and check it. Click "Login"

You will  be taken to a page that will display the secure contact information that the bank has on file for your particular account. You would then select a contact from that list where you may be able to access the information that the bank will send you, most immediately. You will receive a one time access code. If your information is not accessible for whatever the reason or out of date, you will need to contact the bank immediately for further assistance.
HOW TO ENROLL
Step 1 – If you're now prepared to enroll in online banking, you would begin by going to the "Online Banking Enrollment Form"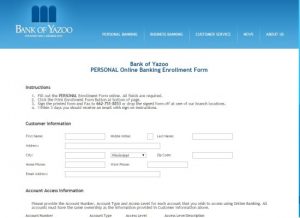 Step 2 – Complete all of the required information in the fields provided. Once all of the information is completed, print the form and provide a hard copy to the bank by either faxing it to the number at the top of the form or walking it into the banking center.

Step 3 – After you've submitted the form to the bank you will contacted in 3 business days with initial access to the web site. You will then be able to login and complete the enrollment process. You must remember that you will not gain access to the account until you've provided a hard copy to the bank, by fax, mail or in person.